The Zenshin Crystals (全身のクリスタル Zenshin no Kurisutaru lit. "Full Body Crystals") are several crystals that appear on Ultraman Ginga's, chest and limbs. They are similar to light crystals, seen on other Ultras.
In some of Ultraman Orb's fusion up forms, Orb also possess Zenshin Crystals on the same places Ginga does.
Powers
Users
Variations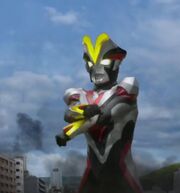 Main article: V Crystals
Gallery
See Also
Community content is available under
CC-BY-SA
unless otherwise noted.