Ultra Hero Series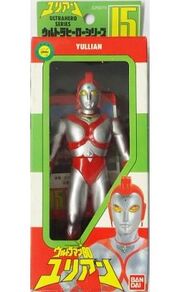 Yullian (1988, 1992)

Release Dates:

1988 (vintage)
1992 (reissue)

ID Number(s):

N/A (Vintage)
15 (Reissue)

JAN/ISBN:

TBA (vintage)
4902425353760 (reissue)

Materials: ATBC-PVC
Released as part of the 80's Ultra Hero Series lineup, Yullian is a 6-inch figure with 3 points of articulation, and she's primarily casted in red ATBC-PVC plastic and features mainly silver paint operations. Unlike the Mother of Ultra figure, Yullian features a similar big-boned body like the other male Ultramen in the lineup.
In 1992, the figure is reissued once again, featuring a new package and a collectors card with a photo depicting her fighting against Plazma and Minazma.
Immortal Ultra Warriors
Immortal Ultra Warriors (1991)

Release Date: 1991
JAN/ISBN: 4902425442501
Materials: ATBC-PVC
A smaller, 5-inch figure of Yullian is available for this gift set along with Ultrawoman Beth, Ultraman Chuck, Ultraman Scott, Ultraman King, Ultraman Ace, Ultraseven, Ultraman Powered, Ultraman Jack & Ultraman 80.
HG Series
TBA
Hyper Real Figure
TBA
Ultra-Act
Italicized items are exclusives.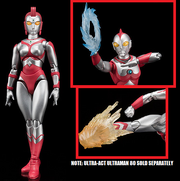 Yullian (2015)

Release Date: May 19, 2015
JAN/ISBN: TBA
Materials: ABS, PVC
Accessories: 1 pair of knife hands, 1 pair of splayed hands, Ultra Slash effect for Ultraman 80, Moonsault Kick for Ultraman 80, adapter for display base
Ultra-Act Yullian is a 6-inch poseable figure that features 10+ points of articulation and swappable hands. She also comes with two effect parts for the Ultra-Act Ultraman 80 figure.
Yullian is released as a Tamashii Webshop exclusive, and it can be ordered between December 19, 2014 from 16:00JST until the February 22, 2015 at 23:00JST, and the product will be shipped this May 19, 2015.
Community content is available under
CC-BY-SA
unless otherwise noted.