Worlds from the Heart -Final Trilogy III- (心からの言葉 ―最終三部作Ⅲ― Kokoro kara no Kotoba -Saishū Sanbusaku Surī-) is the fifty and final episode of Ultraman Mebius.
Synopsis
With Ultraman Mebius and Hikari incapacitated, Earth is set for destruction. But the light of hope in humans have not vanished yet. This is the final battle with Alien Empera!
Plot
Mebius and Hikari's battle against Empera goes from bad to worse when Mebius is completely vaporized by the dark lord's Rezolium Ray. With all hope seemingly lost in Earth's final battle, GUYS has entered its darkest hour. But when faced with the direst threat the world has known, GUYS' long-built friendship will become their greatest strength.
Cast
to be added
Home Media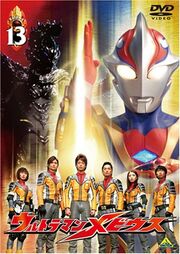 Ultraman Mebius Volume 13 features episode 48-50.
Trivia
This episode was later featured in New Ultraman Retsuden episode 154 "Take Flight, Mebius! Words from the Heart".
Error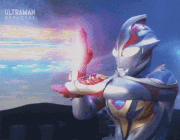 Near the end of the battle, Mebius changes his Mebium-Knight Shoot to the "L" position, but a later scene shows it back in the "+" position.