Which Memories Do You Regret? (思い残した記憶って、なに? Omoinoko shita kioku tte, nani?) is the tenth episode of SSSS.DYNAZENON.
Synopsis
An unprecedentedly great power attacks the city. Yomogi takes hold of Dynasoldier to confront the root of it all.
Voice Drama 10.01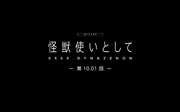 As a Kaiju User (怪獣使いとして Kaijū tsukai toshite)
Gauma and his fellow Kaiju Eugenicists talk about their lives and powers while getting drunk.

Cast
Appearances
Mecha
Dynazenon

Dynasoldier
Dynawing
Dynastriker
Dynadiver
Heroes
Kaiju
Easter Eggs
SSSS.GRIDMAN
The washroom in Yume's house reuses assets from the washroom in Rikka Takarada's house.
Community content is available under
CC-BY-SA
unless otherwise noted.