What is a Kaiju User? (怪獣使いって、なに? Kaijū tsukai tte, nani?) is the first episode of SSSS.DYNAZENON.
Synopsis
Yomogi Asanaka promised to meet his classmate Yume Minami after his part-time job. However, at the time, a mysterious man named Gauma, who claims to be a monster tamer appeared.
Voice Drama 1.1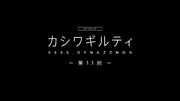 Kashiwa-Guilty (カシワギルティ Kashiwagiruti)
Yomogi's friends come up with an inside joke that he completely misses due to having gone to work the day before.

Cast
Appearances
Mecha
Kaiju
Easter Eggs
Denkou Choujin Gridman
Yomogi gives Gauma a Special Dog (a type of hot dog). This food appeared in episode 3 of the original series and was Ippei's inspiration for designing Barrier Shield.
Before explaining to Yomogi that Yume stood him up, Gauma explained that love and keeping promises are another important things in life. This is a reference to the original Chinese mummy in Gridman (who is Gauma's character inspiration) falling in love with a princess and promised to fight for her country in exchange for their marriage, yet he was betrayed by his lover's family members.
SSSS.GRIDMAN
The scene showing the corridor to Yomogi and Yume's classroom is reused and edited from SSSS.GRIDMAN.
Ultraman Series
The bird-like lucky charm that Riko Saida gives to Kazuki Komon appears in the room where Yume goes to get a book.