What Wish Can't Come True? (果たせぬ願いって、なに? Hatasenu negai tte, nani?) is the eleventh episode of SSSS.DYNAZENON.
Synopsis
Yomogi and the others begin to resume their everyday life, and the Kaiju Eugenicists who have lost their Kaiju also lose their place in the world.
Voice Drama 11.11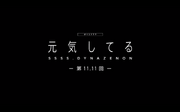 Are You Well? (元気してる Genki shiteru)
Yomogi talks to his father.

Cast
Appearances
Heroes
Kaiju
Error
Funimation's subtitles originally mistranslated the word "mummy" (ミイラ

Miira

) into "mirror". This has since been fixed.