What's Lover-Like Mean? (この切なさって、なに? Kono setsuna-sa tte, nani?) is the sixth episode of SSSS.DYNAZENON.
Synopsis
Yume hears a rumor about Kano's death from an alumni of the chorus club which Kano was in while she was alive. Meanwhile, Koyomi awakens from a hangover and finds that he has lost Dynastriker. Gauma scolds Koyomi and he is reminded of someone he met the previous night.
Voice Drama 6.6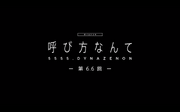 How Do We Call You? (呼び方なんて Yobikata nante)
Koyomi is repeatedly addressed by the wrong surname by Inamoto's husband. They try to figure out what to call him so that they can get it right.

Cast
Appearances
Mecha
Heroes
Kaiju
Easter Eggs
Denkou Choujin Gridman
Ultraman Series