What Are These Overlapping Emotions? (重なる気持ちって、なに? Kasanaru kimochi tte, nani?) is the ninth episode of SSSS.DYNAZENON.
Synopsis
Yomogi and Yume hear about how Kano died. A Kaiju suddenly appears without them being able to take in the story. Meanwhile, Chise holds onto a secret.
Voice Drama 9.9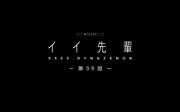 A Good Senior (イイ先輩 Ii Senpai)
Once again, Inamoto starts to tease Yomogi about his supposed love life while talking about her own life experiences, saying how the newer generation of youths have turned out a bit different.

Cast
Appearances
Mecha
Dynazenon

Dynasoldier Wing Combine
Dynastriker
Dynadiver
Heroes
Kaiju
Easter Eggs
SSSS.GRIDMAN