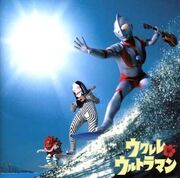 I miss Ultraman.
Ultraman has been absent from the airwaves since 2007, replaced by the Pokémon-esque, Ultra Galaxy Mega Monster Battle… and the follow-up series, Ultra Galaxy Mega Monster Battle: Never Ending Odyssey.
While Galaxy is a decent enough show, with a fun concept and plenty of kaiju battles, the acting and production values feel decidedly below average for an Ultra series. This, coupled with a distinct lack of Ultraman blowing the shit out of monsters has led me to give up on Galaxy for the most part.
Let me put things into perspective for you:
I grew up watching Ultraman.
Not only that, the first show I ever watched was the outsourced, Australian iteration, Ultraman Towards the Future, which is universally regarded as one of the worst Ultra series of all time, second only to the American Ultraman Powered.
Despite this, as a child I loved it! I remember waking up at obscene hours of the morning to to catch one of the 13 episodes every weekend, (kind of like how we all used to watch the same 2 or 3
Ren & Stimpy
episodes every weekend) and loving every minute of it. To this day, I still have some of the action figures, the playset, and even the terrible
Super NES
game.
Community content is available under
CC-BY-SA
unless otherwise noted.