This what i was doing when i was novice:
This is where i start making mistakes:
Maybe an argument about whose the one who had black markings in the first place (Pict 2)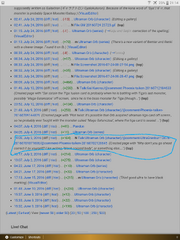 I forgot about this thing, but maybe i'm doing something wrong. (pict 3 with arrow)
This is where i edit about Babaryu will voiced by Ryusuke Nakamura (which is actually, he will acting as Baba Ryuji and at the same time voicing Babaryu) and i ever said Amir as "bro", which is kinda less polite for me. (Pict 3)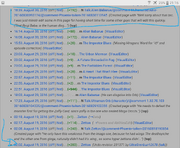 This is where me and Grenburr arguing each other about having black markings in the good Ultras (Pict 4)
In May 20, Me and Clee fighting each other about having a full transformation sequence for ES, while the rest did not have the full transformation sequence, like i was trying to make it fair, but then i was wrong, i should have just help him to add the gif by myself, instead of arguing him to post another one just to make it fair. From now on, i will trust to any good and experienced user in this wiki. (TBH, i almost got banned).
For those of you who just signed in and want to collab with this wiki, you might wanna read my blog of this.
I don't care if any of you want to talk harshly or softly, this is where i learned all of my mistakes.
Community content is available under
CC-BY-SA
unless otherwise noted.