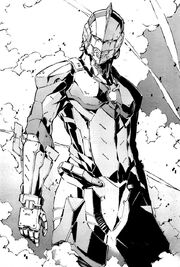 A fan of tokusatsu in general but specifically Ultraman. Writing is a hobby of mine, so I found this wiki to be a good outlet for that and I've also met new people. I started on this wiki by doing edits on the Ultraman Nexus page and joined when the Ultra pages were locked to protect against vandalism. I also focus my efforts on the Ultra N Project Ultras such as Nexus, Noa, Zagi etc, since that they are some of my favorite Ultra and Nexus was one of the earliest series I saw in full after Ultraman Tiga
For anyone looking for tips when editing the Wiki:Tips for Editing the Wiki.
I am now head Admin for Ultra Fan Wiki, an Ultraman fan fiction (we also welcome similar fiction) and the founder of Super Robot Fanon Wiki, another Fan Wiki but for Super Robots.
Please note
There are two Wikis I would like to bring to the attention of anyone reading the first is..
To Do List
Pages
Theory Blogs
ULTRAMAN Manga Pages
General Admin Duties.
My Favourite Ultras
Favourite Showa Ultras
Favourite Heisei Ultras
Favourite Dark Ultras
Community content is available under
CC-BY-SA
unless otherwise noted.