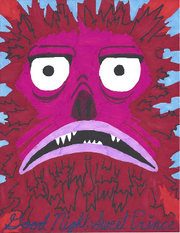 Hi, I write Monsters Conquer the World ! An in-depth, off-kilter blog about kaiju movies and shows.  If you like your thoughtful movie analysis sprayed with a(n un-) healthy dose of stream-of-consciousness bullshit, dick jokes, bad words, pop culture tangents, and unhingined enthusiasm, I'm your guy!
I'm currently in the process of reviewing the original Ultraman series, so feel free to Czech out parts 1 , 2 , 3 , 4 , 5 , and 6 !
Like video games?  Like my whole thing? THEN GOOD BECAUSE I AM ON TWITCH ALSO .  You can catch up on my past broadcasts here, and if you specifically want to see me stumble through kaiju-themed video games, check out my playlists for Godzilla (PS4) and KAIJULY , a special month-long event where I played a whole slew of different stompy monster games!  
I'm a lifelong Godzilla and Gamera fan, and only started digging into Ultraman within the last few years.  It's been a ton of fun so far (I've seen about half of the original series and watched Ultraman X and Orb from start to finish), and I plan on absorbing as much Ultramanhood (ooh that sounded worse than I thought it would) as I can.
My favorite pages
Community content is available under
CC-BY-SA
unless otherwise noted.