Welcome
Hi, I'm Brian and I am a huge fan of the ultraman franchise. I spend lots of time on this site settling arguments with my brother. I joined on December 27, 2013 but I have used this wiki longer than that maybe since August of 2012 but never got an account with the site. My favorite ultraman is ultraman (the original), because he was my first watched ultraman. My favorite kaiju is gomora cause he's a boss, my favorite seijen is alien mephilas because he is so manipulative and is ultramans arch enemy. My favorite mecha is king joe because he separates into 4 different ships. 
To Do List
Add more episode guides
Questions of the Week on Fridays
Monster Fights on Sundays
Spark Dolls
I can UltraLive into Ultraman Taro
I can  UltraLive into Gomora
I can UltraLive into Eleking
I can UltraLive into Zetton
I can UltraLive into Black King
I can UltraLive into King Joe
(Link) Spark Dolls
My favorite pages
Other Kaiju I like.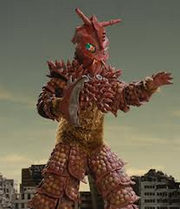 Godzilla (Godzilla)
King Ghidorah (Godzilla)
Gigan (Godzilla)
MechaGodzilla (Godzilla)
Gamera (Gamera)
Gypsy Danger (Pacific Rim)
Knifehead (Pacific Rim)
Leatherback (Pacific Rim)
My Edits and Creations
Sometimes I can be a grammar freak, but I won't put those edits up on this section.
Here are the pages I've edited or created in the past:
Ultraman Taro (character)
Ultraman (1966-1967) Episode Guide (I created)
Ultaseven (1967-1968) Episode Guide  (created by me)
Friends
Mylittle brother who loves Ultraman Leo
​Gallery
Community content is available under
CC-BY-SA
unless otherwise noted.