Ultraseven Arrives! (ウルトラセブン参上 Urutorasebunn Sanjo!) is the 18th episode of Return of Ultraman. It also marks the return of Ultraseven.
Plot
The MAT Space Station and it's captain Kaji, who is Captain Kato's close friend, was swallowed by the monster Bemstar. Kato gave out orders to attack Bemstar for avenge, but the Great Space Monster from the Crab Nebula is more troublesome than he'd imagined. Even Ultraman's fatal attack is ineffective against it!
Cast
TBA
Home Media
Return of Ultraman Volume 5 Features Episodes 17-20.
Trivia
This is one of the Ultraman Series' first team-ups.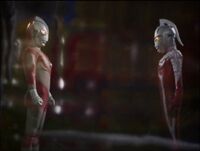 On the HD Version, the background is black when Ultraseven is discussing with Ultraman Jack, instead of orange.
This episode was later featured in New Ultraman Retsuden episode 148 "Jack vs. Bemstar: Ultraseven Has Arrived."
The episode was supposed to be released July 30th, 1971 but was delayed because of the Nippon Flight 58 accident being aired on the Tokyo Broadcasting System.
Community content is available under
CC-BY-SA
unless otherwise noted.