Tsuburaya Productions (TPC) have been in decades-long legal battles against Chaiyo Productions and other companies such as UM Corporation (UMC), over various rights to the Ultraman Series outside of Japan. Previously, Tsuburaya worked with Chaiyo on The 6 Ultra Brothers vs. The Monster Army (Hanuman vs. 7 Ultraman) and Jumborg Ace & Giant — the latter of which featured another Tsuburaya superhero, Jumborg Ace — in 1974.

Beginning of the Conflict
In 1996, Thai filmmaker Sompote Saengduenchai (who also goes under the name Sompote Sands) claimed that Eiji Tsuburaya's son Noboru, who'd passed away the previous year, had granted him all Ultraman copyrights and merchandising rights outside Japan in exchange for a monetary loan.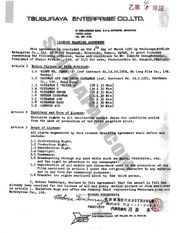 Although the document did not clarify what exactly had been given to Tsuburaya in exchange for those rights, courts in Japan and Thailand accepted the contract as genuine due to the appearance of Noboru Tsuburaya's hanko. Tsuburaya Productions insisted that the contract was forged, as several series were mistitled and Tsuburaya Productions was referred to as "Tsuburaya Prod. and Enterprises," which was never used for company business. The document even erroneously titled Chaiyo's own co-productions Hanuman vs. 7 Ultraman and Jumborg Ace & Giant'" as "Haruman and the Seven Ultraman" and "Giant vs. Jambo 'A'", respectively.
Throughout the lawsuit, Sompote claimed that the design of Ultraman's face had been influenced by photos of Thai Buddhist edifices, which he'd personally shown to Eiji Tsuburaya. No other evidence supporting this claim was known to exist. It was around this time that Chaiyo formed another company, Tsuburaya Chaiyo Co., Ltd., of which Sompote was president.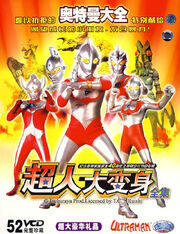 After an 8-year legal battle in courts from both countries, Sompote Saengduenchai was awarded a favorable decision on April 27, 2004. The exact ruling was disputed: some said it only gave him merchandising rights for the first six Ultraman Series (Ultra Q through Ultraman Taro) and Jumborg Ace outside Japan, and broadcasting rights of said shows within Thailand. Other accounts, usually reported in Thai and Asian media, said that Chaiyo had gained international distribution rights to those shows. The latter could be taken as Chaiyo's side of the story, as Tsuburaya was reported in the Japanese media to continue taking further action against them.
Tsuburaya decided not to market any of the disputed six Ultraman Series outside Japan until it had completely settled the rights issues with Chaiyo, although the company continued to merchandise and distribute all Ultraman media created after Ultraman Taro worldwide, including the theatrical film ULTRAMAN. The copyright disputes also caused Malaysia and Singapore to prohibit importing literature on Ultraman; however, stage shows and the like were still acceptable.
In 2005, the American company BCI Eclipse announced they had acquired the DVD rights to the original Ultraman from Chaiyo. A 3-disc box set containing the first 20 episodes of the series was released on July 18, 2006, and a second 3-disc box set containing the remaining 19 episodes was released on November 7, 2006. Both sets feature the original Japanese monaural dialogue track as well as the English-dubbed version produced by United Artists for North America in syndication. At certain times, the English dialogue track switched over to the Japanese dialogue for small periods of time. This was because BCI had used audio from older recordings in which several scenes had to be cut or shortened for the American broadcast in order to fit running time constraints. Tsuburaya Productions still held on to the complete original English dubbing materials, which they had obtained from a warehouse in 1997, and refused to provide them for BCI. (Contrary to BCI's statements, the original English dubs were complete and uncut, except for a small cut in the conclusion of Episode 36, "Gift From The Sky.")
Project Ultraman / Battle Over the Character (2006 - 2009)
During the time of the legal battle, Chaiyo created a TV series titled Project Ultraman, and came up with three of their own Ultraman characters: Ultraman Millennium, Ultraman Elite, and Dark Ultraman. Hong Kong star Ekin Cheng was also attached to the project. They also had organized several stage shows and live events, and an Ultraman-based theme park was being built as well. This project was also meant to follow a 26-episode animated television show named Ultraman The Animation, which was scheduled to air February 2002, but ultimately never saw the light of day due to the legal battles.[1]
On August 23, 2006, Tsuburaya Productions filed a new lawsuit against Chaiyo for copyright infringement and plagiarism (concerning their three original Ultraman characters), and the court case was taken to China. The Chinese courts in Beijing opened "The Ultraman Copyright Study Group" in response to the lawsuit.[2]
In April 2007, the Thailand Intellectual Property Court ruled in favor of Tsuburaya Productions, ordering Tsuburaya Chaiyo and Chaiyo Productions to cease and desist making commercial profits from Chaiyo-produced Ultraman characters such as Millennium, Dark, and Elite. The defendants were also fined 15,000,000 Thai Baht (approx. 50,904,959 Japanese Yen or 428,673.50 USD, c. April 2007) plus interest and an additional 80,000 Baht in attorneys' fees.[3][4] Project Ultraman went on indefinite hiatus as a result of the ruling, which implied that although Chaiyo owned the right to some of the Ultraman series, it did not own the right to create new Ultraman characters, including the design. Chaiyo gained permission to merchandise the original series, but lost the right to create and market its own Ultraman, or even use the original, without Tsuburaya's consent.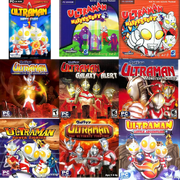 In the midst of all this, Chaiyo and T.C. Ruishi had produced merchandise and even an educational TV show in China called Ultraman Big Transformation (超人大变身 Chāo Rén Dà Biàn Shēn) via TIGA Entertainment, a Thai licensing and distribution company. Cyber Planet Interactive Thailand produced several video games (namely Ultraman Happy Study, Ultraman Episode 1: The Taro Adventure, Ultraman Monster Crisis, Ultraman Galaxy Alert, Ultraman The Ultimate Fighting, Ultraman Little Adventure and Ultraman Power Fighter) under TIGA's licensing and infamously credited Tsuburaya Chaiyo for "All Ultraman Characters". Some of these contained Ultraman material that was not part of the original 1976 agreement, such as Ultraman Leo, Ultraman 80, Andro Melos, Ultraman: The Adventure Begins, Ultraman: Towards the Future, Ultraman: The Ultimate Hero and Ultraman Zearth.[5][6][7]
On February 5, 2008, the Supreme Court ruled in favor of Tsuburaya Productions of Japan after they made an appeal to the initial ruling. The ruling ended the long legal battle by finding that Sompote Saengduenchai was not a co-creator of Ultraman. The decision ended Sompote's bid to continue his enterprise, and the court gave Sompote 30 days to stop profiting off of the Ultraman Series and related assets. The final ruling saw Tsuburaya Productions as the sole copyright owner. Sompote was also required to pay THB 10,700,000 plus interest at the rate of 7.5 per cent a year starting from December 16, 1997, when the original lawsuit was filed.[8]
Eventually, the construction of the theme park was halted, and the now-dilapidated Ultraman face that had been built at the entrance remains at the abandoned site to this day. The theme park was eventually turned into Sompote Saengduenchai's personal museum showcasing Ultraman memorabilia.[9]
Chaiyo's Comeback / Emergence of UM Corporation (2009 - 2015)
In 2009, the Thai Intellectual Property Court and the Tokyo District Court both ruled in favor of Chaiyo. This led to the Tokyo District Court on September 30, 2010, ordering Tsuburaya Productions Co of Japan to pay damages of 16.36 million yen (5.9 million Baht) to Sompote Saengduenchai of Thailand for violating his overseas copyrights on Ultraman characters.[10]
As a result, Chaiyo was able to market the first six entries in the Ultraman Series outside Japan, making agreements with companies such as Mill Creek, through which they released Ultraman, and Shout! Factory, through which they released Ultra Q and Ultraseven.
In 2012, Chaiyo conferred legal rights to the first six Ultraman Series to UM Corporation[11], a Japan-based company whose representative director was Perasit "Pete" Saengduenchai, one of Sompote's sons.[12] They were also connected to TIGA Entertainment, who acted as their international rights agent[13], claiming to have the global rights to Ultraman except for in Thailand and Japan[14], and operated on the franchise mainly through a branch in Hong Kong, acting as an "exclusive global agent".[15] Despite that, Chaiyo continued to use the characters and shows in promotional events and merchandise.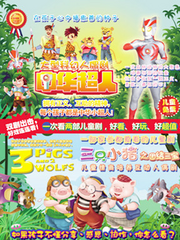 In 2013, T.C. Ruishi, a media company who partnered with Chaiyo Productions to produce Project Ultraman in 2006, attempted to create their own giant hero series based on the Ultraman image, named Sinic Giant (中华超人 Zhōng Huá Chāo Rén), in collaboration with Xing Yuan Co. Ltd.. This included a stage show production[16], an educational show for children that ran for 104 episodes[17], and licensed merchandise marketed with characters from the first six Ultraman series. A short clip was also released by Azure Studio that teased an animated television series[18]. However, the franchise ultimately faded into obscurity.
In the same year, T.C. Ruishi also ventured into another project, RED JADE, a live-action superhero film. Not much was revealed about the movie before it was eventually put on hold and cancelled, besides a teaser trailer, poster and a short feature with Sinic Giant at a T.C. Ruishi booth at a convention.[19]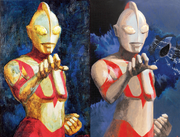 In 2014, in commemoration for Ultraman's 50th anniversary (which was actually in 2016), Chaiyo launched the Ultraman Forever project. They planned to release a 6-season boxset, containing more than 325 episodes, of the Ultraman series in the United States, which was advertised on their website. The unreleased boxset was to include Ultraman, Ultraseven, Return of Ultraman, Ultraman Ace, Ultraman Taro, and Ultraman Leo. Other products listed on the Ultraman Forever website are a 50th Anniversary Collector's Book, a collection of Classic Ultraman Action Posters, and a catalog of Tohl Narita's original Ultraman Art Collection, all of which were available for pre-order. However, the Tohl Narita paintings that they advertised had some differences from the originals, which made their authenticity all the more questionable. The releases were ultimately cancelled.
On May 10, 2015, Chaiyo (acting as Chaiyo Studios) announced the formation of Ultraman USA Inc. It should be noted that Sompote Saengduenchai was among the Board Members present at the event. They also planned to make a new Ultraman movie and comic series, along with new limited-edition merchandise through their website, which they claim to be official.[20] The company announced that they planned to release Blu-ray editions of the first six Ultraman series, and produce two movies, tentatively titled Jumborg Ace vs. Ninja Panda and Ultraman vs. Gamola in the Japan Olympics 2020, and considered casting Will Smith as he had once admitted on an interview that he was a fan of Ultraman. When questioned, Ultraman USA's marketing representative stated that they would consider making a show for streaming services such as Netflix, provided the Blu-ray releases do well.[21] Probably due to Tsuburaya Productions' intervention, none of these projects were launched.
Legal Battles Against UM Corporation and BlueArc (2015 - Present)
In 2015, after UMC's affiliate Veranda Entertainment LLC attempted to upload episodes of Ultraman to YouTube, Tsuburaya had them taken down. UMC then brought a lawsuit against Tsuburaya on May 18, 2015, for violation of the agreement previously decided on with Chaiyo, claiming rights to the first six series as well as to the character himself. They also attacked Tsuburaya for distributing series outside of Japan with Ultras similar to the original, such as Ultraman Tiga.[22]
At some point in 2017, UMC and TIGA had established a partnership with Malaysian company Taigaco to expand their reach in Southeast Asian countries, namely Malaysia, Singapore, Indonesia, Brunei, Vietnam and the Philippines, making them the "official" licensing and merchandising rights holder of Ultraman products in those regions.[23] They created several social accounts and a website all named "Ultraman Original" to promote their presence.[24][25][26] The company has produced "official" merchandise and held events, and continue their activities to this day, which include:
an Ultraman Meet & Greet event in Alamanda Shopping Centre[27];
BlueArc Group (Blue Magic Culture Communications, BlueArc Culture Communications and Blue Arc Animation), a trio of Chinese companies, were licensed by UMC and TIGA Entertainment to produce "Ultraman 3D Animation Movies".[31] The contract lasted from January 1, 2017, to December 31, 2019. This led to the development of the movie Dragon Force: So Long Ultraman, and several sequels, merchandise deals, and live events. The movie gave Ultraman a redesign and an apparent antagonistic role. Understandably, the movie came under fire from fans worldwide and got the attention of Tsuburaya Productions, who released a statement to clarify that this production was not authorized by them. Tsuburaya then brought UMC to the Los Angeles Federal Court, who then ruled in Tsuburaya Productions' favour.[32] However, UMC had taken Tsuburaya back to court once more to dispute the case despite having ruled earlier that they did not have the rights to Ultraman and related characters.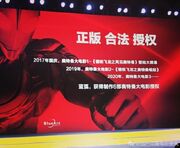 Tsuburaya Productions announced that they also had to litigate against BlueArc due to the release of Dragon Force: Rise of Ultraman in January 2019, with BlueArc claiming that their work was genuine, legal and authorized, and that they were going to release 6 Ultraman-related movies, with the third supposedly coming in 2020, though there has been no news of its development or the contract's renewal. Tsuburaya Productions released this notice alerting stakeholders of the case, and brought up a lawsuit in China against BlueArc. As shared by the Shanghai Character License Administrative (SCLA) on Weibo[33], Tsuburaya Productions will be taking legal actions against BlueArc for infringement. In response, BlueArc also released this statement accusing Tsuburaya Productions of unlawful competition and harassment, once more citing the 1976 Agreement.
On April 18, 2018, the Ninth Circuit District Court in the United States entered a final judgement to which it stated that the document was deemed invalid, prohibiting UMC and affiliated companies from engaging in or authorizing any copying, reproduction, preparation of derivative works, distribution, sale or other transfer of ownership, rental, lease, lending or public performance of any audio-visual or other creative works or products based on Ultraman characters or stories in the United States.[34] The judgment required UMC, TIGA, GMG, and Ultraman USA to pay $45,555.47 USD (another statement by Tsuburaya Productions claims the amount to be 4.5 million USD) in damages and for court costs.[35][12]
On May 7, 2018, UMC filed an appeal stating that the District Court was prejudiced against UMC and had made certain errors. However, the Court of Appeal entered a final judgement on December 5, 2019, once again in favor of Tsuburaya Productions. UMC was required to pay damages to Tsuburaya Productions for infringement and attorney's fees. [36] UMC then failed to file a further appeal to the Supreme Court by the deadline on March 4, 2020. This made the prior court's judgement final, concluding Tsuburaya Productions' court victories. UMC were required to pay US$4,000,000 (approx. 400,000,000 Japanese Yen) in compensatory damages.[37]
On July 8, 2020, Tsuburaya Productions shared this notice via the SCLA's Weibo account to announce that they have successfully litigated against BlueArc from their previous activities using the Ultraman character in their dealings[38].
On September 23, 2020, the Thai Supreme Court ruled that Tsuburaya Productions were the legitimate copyright owners of the shows listed in the License Granting Agreement[39], and now also have ownership over Hanuman vs. 7 Ultraman (and its remake, Hanuman vs. 11 Ultraman) as well as Jumborg Ace & Giant. Sompote Saengduenchai had made an appeal to the court over the decision, but was dismissed.[40][41] Sompote believes the decision would affect the former two movies' status as national heritage items, and has appealed to both the Supreme Court and Ministry of Culture on that front.[42]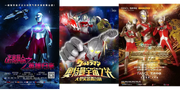 However, to date UMC continues to license:
In addition, other malls following UMC's footsteps have made unauthorized use of the Ultraman characters, to which SCLA have issued out responses. These include:
In 2021, to commemorate the 55th anniversary of the Ultraman franchise, UMC jointly organized the Here Comes Our Ultraman! (奥特曼微来了, Here Comes Our Ultraman!) and Showa Ultraman 55th Anniversary Special <Intense Showdown> Meet-and-Greet Session (昭和系奥特曼55周年特别企划《热血对决》见面会, Showa Ultraman 55th Anniversary Special <Intense Showdown> Meet-and-Greet Session)[61] events with Wuyue Plaza in Changchun city's Beihu district, held from September 3rd to October 7th. The events featured a large play area for children, booths fraudulently selling official Ultraman merchandise licensed by SCLA, and a stage show[62][63]. In response, SCLA issued a statement shortly thereafter, stating that the event was not officially licensed.[64]
Sompote Sands, the main instigator, died on August 26th 2021 aged 80 after an illness of cancer[65].

References