Ultraman Saga (ウルトラマンサーガ Urutoraman Sāga) is a Super Ultraman who is a fusion of Zero, Dyna, and Cosmos, similar to how the latter fuses with Ultraman Justice into Ultraman Legend. His only appearance was in the 2012 film Ultraman Saga.
Conception
Etymology
The name Saga is based on the word "Saga" that can be defined as any narrative or legend of heroic exploits, alluding to the stories and legends of the Ultras. Synonyms of "saga" include epic, story, tale, and history. In other words, this Ultra represents the heroic acts of previous Ultras.
History
Ultraman Saga
After Ultraman Zero, Dyna and Cosmos were unable to defeat the apocalyptic Hyper Zetton, Nozomu Taiga, Shin Asuka, and Musashi Haruno were left scattered below the Kaiju. They refused to give up, however, and they kept believing in those Ultramans, giving their Ultra halves a new light and merged into one, thus becoming Ultraman Saga. The hero then continued his battle with Hyper Zetton. They were equally matched, and if the fight had continued any longer, Saga would have lost. Fortunately, with the help of Team U, the Fusion Ultraman managed to defeat Hyper Zetton, destroying him with the Saga Maximum, and the 3 Ultras defused back to normal. Ultraman Saga
Because of this fusion, Zero obtained the forms Strong-Corona and Luna-Miracle, which would help him out on his later journeys against Belial. Ultra Zero Fight

Profile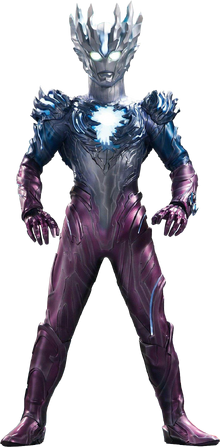 Height: 58 m
Weight: 45,000 t
Maximum Flight Speed: Immeasurable
Maximum Running Speed: Mach 22
Maximum Underwater Speed: Mach 12
Maximum Underground Speed: Mach 11
Maximum Jumping Height: 8,000 m
Arm Strength: 280,000 t
Grip Strength: 220,000 t
Body Features
Abilities
Saga Effect (サーガエフェクト

Sāga Efekuto

): A mysterious energy that permeates Saga's entire being. To channel this power he often uses the Saga Brace.
Techniques
Special
Saga Plasma (サーガプラズマー

Sāga Purazumā

): A blast of energy fired using his two hands.
Saga Slasher (サーガスラッシャー

Sāga Surasshā

): A ring of light that cuts through enemies, it is similar to Ultraman's Ultra Slash.

Saga Triple Slasher (サーガトリプルスラッシャー

Sāga Toripuru Surasshā

): The Saga Slasher can be separated into three discs at will.

Saga Shooter (サーガシューター

Sāga Shūtā

): Shots of light fired from his hand. Synonymous with Hand Slashes used by other Ultras.
Physical
Saga Attacker (サーガアタッカー

Sāga Atakkā

): Saga flies towards his opponent and collides with them at high speed.
Saga Puncher (サーガパンチャー

Sāga Panchā

): A high speed, powerful punching technique.
Saga Spinner (サーガスピナー

Sāga Supinā

): A technique where Saga uses his feet to hit his opponent consecutive times.
Saga Maximum (サーガマキシマム

Sāga Makishimamu

): Ultraman Saga's strongest attack. He flies towards his enemy and delivers an extremely powerful punch.
Other
Saga Cutter (サーガカッター

Sāga Kattā

): A powerful blade made from the Saga Brace.
Saga Acceleration (サーガアクセラレーション

Sāga Akuserarēshon

): Ultraman Saga uses this technique to teleport.
Saga Protection (サーガプロテクション

Sāga Purotekushon

): Saga crosses his arms and erects an unseen energy wave of the Saga Effect that acts as a force field around his entire body. Used to counter Hyper Zetton's Dark Fireball.
Combination
Ginga Victory Maximum (ギンガビクトリマキシマム

Ginga Bikutori Makishimamu

): Exclusive to Ultraman Fusion Fight! R/B's Bond, Saga and Ultraman Ginga Victory both fly towards their enemy to deliver a double finisher punch.
Trivia
Originally, Saga was supposed to be born of a fusion of only Ultraman Dyna and Ultraman Zero.
References