Ultraman Reiga (ウルトラマンレイガ Urutoraman Reiga) is an Ultra Warrior born from the fusion of the 11 New Generation Heroes.[2][3] He debuts in Ultraman Taiga The Movie: New Generation Climax. Reiga is stated to be the strongest Ultraman in history.[4]
History
Ultraman Taiga The Movie: New Generation Climax
Ultraman Reiga is formed by the fusion of Ultraman Ginga Victory, Ultraman Exceed X Beta Spark Armor, Ultraman Orb Orb Trinity, Ultraman Geed Ultimate Final, Ultraman Groob and Ultraman Taiga Tri-Strium to defeat Grimdo, who had been released by Ultraman Tregear. Ultraman Taiga The Movie: New Generation Climax

Profile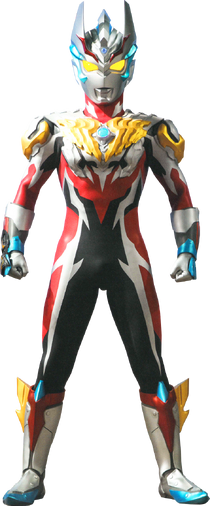 Stats
Height: 50 m[2]
Weight: 50,000 t[2]
Maximum Flight Speed: Mach 30
Maximum Underwater Speed: 300 knots
Maximum Underground Speed: Mach 1.5
Maximum Jumping Power: 2,000 m
Arm Strength: 200,000 t
Grip Strength: 100,000 t
Body Features
Protectors (プロテクター

Purotekutā

): Reiga has Protectors on his chest and shoulders.
Color Timer (カラータイマー

Karā Taimā

)
Beam Lamp (ビームランプ

Bīmu Ranpu

): Reiga possesses a blue Beam Lamp on his forehead.
Taiga Spark (タイガスパーク

Taiga Supāku

): Reiga is equipped with the Taiga Spark on his lower right arm.
Body Lines: The silver lines on Reiga's body, as well as the red lines on his forehead, glow with a golden light as he charges up energy.
Transformation
"We're not going to back down! New Generation Climax, Buddy Go!"

―Transformation catchphrase
"(New Generation Heroes' battle cries) Ultraman Reiga!"

―Transformation announcement
Hiroyuki Kudo uses the New Generation Eye to transform into Ultraman Reiga. He puts the New Generation Eye in front of his face and presses the button on the side.[3][5]
Techniques
Special
Reiga Ultimate Blaster (レイガ・アルティメットブラスター

Reiga Arutimetto Burasutā

): Reiga's finishing attack. It is a '+' style Ultra Beam that combines all the energy of the New Generation Heroes.
Physical
Reiga Photon Blow (レイガフォトンブロー

Reiga Foton Burō

): Reiga coats his fist in an aura and punches the enemy.
Other
Reiga Protection (レイガプロテクション

Reiga Purotekushon

): A protective ability that allows Reiga to withstand Grimdo's attacks.
Gallery
Ultraman Taiga The Movie: New Generation Climax
Magazines
Miscellaneous
Trivia
Despite clearly being based on Ultraman Taiga, even having the same face and Color Timer, Reiga is considered a separate entity with a different name instead of being a power up form.

In a magazine interview, Masayuki Goto revealed that Reiga's base design was reused from a scrapped design for Taiga. His horns were then changed and lengthened and the Taiga Spark, which he initially did not have, was put on his arm.[6]

Having eleven component Ultras, Reiga sets a new record for the greatest number of Ultras in a fusion.[3]
References
Community content is available under
CC-BY-SA
unless otherwise noted.