"I'm the Grand Master of the Cosmo Beast Style, Ultraman Regulos of the Red Dragon White Tiger Fist!"

―Ultraman Regulos
Ultraman Regulos (ウルトラマンレグロス Urutoraman Regurosu) is an Ultra first appears in Ultra Galaxy Fight: The Destined Crossroad.[2][3] He was originally introduced in Ultra Galaxy Fight: The Absolute Conspiracy as a silhouetted figure who was imprisoned in Narak. Regulos learned the Cosmo Beast Style from Planet D60, an exoplanet orbiting a star in the constellation of Draco.[4][5]
Conception
Etymology
Regulos' name is taken from Regulus, the brightest star in the Leo constellation, whose name in turn is derived from the Latin word Rēgulus, meaning 'Prince' or 'Little King'.
History
Ultra Galaxy Fight: The Absolute Conspiracy
Regulos first appeared during Yullian's imprisonment in Narak after The Kingdom successfully captured her as part of their plan to take over the Land of Light, having been contained within the dimension for an unknown amount of time. After Absolute Tartarus left Narak through a portal, Yullian briefly attempted to follow him, before turning to find Regulos, who was restrained with several energy shackles to keep him in place. The Appearance
Ultra Galaxy Fight: The Destined Crossroad
Shackled by chains made of energy, Regulos was approached by Yullian, who promptly identified his connection to the Cosmo Beast Style through the unique markings on his arms. Absolute Diavolo then barged in and interrupted Yullian healing Regulos, just to mock him. Ultra Galaxy Fight: The Destined Crossroad

Profile
Stats
Body Features
Techniques
Merchandise
Ultra Hero Series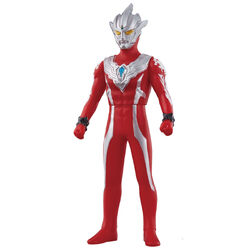 Ultraman Regulos (2021)

Release Date: December 11, 2021
ID Number: EX
Price: 600 yen
JAN/ISBN: 4549660698937
Materials: PVC
Ultra Hero Series Ultraman Regulos is a 14cm soft vinyl figure with 3 points of articulation on the arms and waist. Molded in red PVC plastic, Regulos features mainly silver and some black, metallic blue and yellow paint operations, and his tattoos are tampographed. Most of the rear details (as per the norm to most UH500 figures) and the gold paint operations on his chest protectors are omitted, however.
Chodo
Chodo α (Alpha) Ultraman 2 (2022)

Release Date: June 2022
Price: 500 yen per box
JAN/ISBN: 4549660738527
Materials: PVC
Released as part of the second wave of the Chodo α (Alpha) line, this Ultraman Regulos is a palm-sized action figure with 10+ points of articulation, with new additional joints such as the hips. Like all of the Shodo/Chodo figures, Regulos features mostly minimal paint operations for the sake of the lineup's cost.
Boxes with Regulos' Japanese name contains the figure. The toy can also mount with the Red Dragon White Tiger Fist effect included in this line's Expansion Parts set.
Trivia
In The Absolute Conspiracy, Regulos' silhouette reuses the image of Ultraseven.
References