Ultra Hero Series (1990-2009)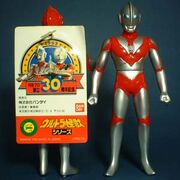 Ultraman Powered (1993)

Price: 700 yen
Materials: ATBC-PVC
Release Date: July 24, 1993
The first Ultraman Powered figure is released as a carded figure, under the Ultra Monster Series moniker. Like most Ultramen figures, he was primarily casted in red plastic, and features silver paint operations on his body, and metallic blue paint on his eyes & color timer.
The figure was initially released as an Ultraman Festival exclusive before it hits to retail shops.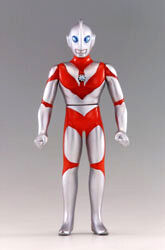 Ultraman Powered (1993/2000)

ID Number: 19 (Vintage), 14 (Reissue)
Price: 600 yen (1993 release), 700 yen (Reissue)
Materials: ATBC-PVC
Release Date: 2000
JAN/ISBN: 4902425399324 (Vintage), 4902425768083 (Reissue)
The first Ultraman Powered is re-released again as a boxed packaging twice in 1993 & 2000, with no known changes on the physical appearance.
The 2000 release also comes with a collectible data card, with the picture depicts him fighting Powered Red King.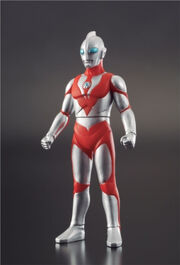 Ultraman Powered (2009)

Release Date: 24th of October, 2009
ID Number: 13
Price: 800 yen
Materials: PVC
JAN/ISBN: 4543112573322
Release as part of the Ultra Hero Series Renewal lineup, this new mold of Powered features show-accurate proportions compared to his previous UHS figure.
This release was discontinued and replaced by Ultraman Saga in 2012, although some units are still available in some department stores from Asia, even with most of the Ultra Hero Series figures being taken off the shelves.
Ultra Mecha Selection
Ultra Mecha Selection 2 (1996)

Price: 2200 yen
Materials: PVC, ABS
Release Date: 1996
Other accessories: pending.
A small figure of Ultraman Powered is bundled with TAC, ZAT, MAC, UGM, UMA & WINR's attack crafts.
HG Series
Pending.
ULTRA-ACT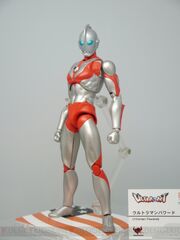 Ultraman Powered (Unreleased)
The Ultra-Act version of Powered was shown at the Tamashii Nations 2012 event, currently as a sample display. And since the line is being replaced with S.H. Figuarts, the figure will likely never saw release in the future.
Daikaiju Series
X-Plus also developed a Daikaiju Series figure of this Ultra, with optional red eyed head and a red color timer.
Ultra Hero Series (500)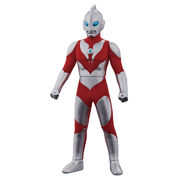 Ultraman Powered (2020)

ID Number: EX
Price: 600 yen
Release Date: December 26, 2020
Materials: PVC
This smaller figure of Powered is meant to scale with the previously-released Ultra Hero 500 (now branded as Ultra Hero Series) line. Unlike previous figures, Powered features mostly minimal paint operations, and like recent releases, Powered does not feature a sculpted groove for a Live Sign sticker.
Like his wavemates Joneus and Great, Powered is labeled as an "EX" release.
Community content is available under
CC-BY-SA
unless otherwise noted.