"So, you know all my moves? Alright then!"

―Ultraman Orb making a remark to his dark copy
Ultraman Orb Darkness (ウルトラマンオーブダークネス Urutoraman Ōbu Dākunesu) is a dark clone of Ultraman Orb that first appears in Ultra Galaxy Fight: New Generation Heroes. He is presented as a member of the League of Darkness.[1][2][3]
History
Ultra Galaxy Fight: New Generation Heroes
Orb Darkness was created by Ultra Dark-Killer using the energy stolen from Ultraman Orb by X Darkness and Geed Darkness. However, its appearance is incomplete as X Darkness and Geed Darkness were interrupted by Ultraman Victory. Nevertheless it is already as powerful as Orb.[4]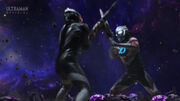 Upon creation, Orb Darkness was blasted with Tregear's lightning as a reminder to Dark-Killer of his original goal. When the New Generation Heroes storm the Planet Tenebris, Orb Darkness fought against its template and managed to shrug off Orb Origin, Spacium Zeperion and Burnmite. He was killed after Orb changes to Emerium Slugger and fires he ES Spacium, followed by the Hyper Ultra Knock Tactics. In a desperate attempt to gain advantage over the New Generation Heroes, Dark-Killer recreated Orb Darkness and the other three Darkness warriors, only to consume them and grow even larger. Ultra Galaxy Fight: New Generation Heroes

Profile
Stats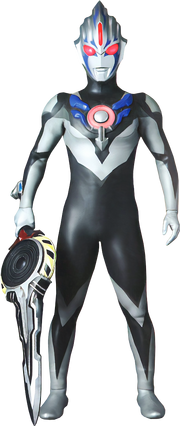 Height: 50 m
Weight: 50,000 t
Body Features
Color Timer: Being a copy of Ultraman Orb, Orb Darkness also has his version of a Color Timer.
Forehead Crystal: Orb Darkness has a red crystal on his forehead.
Protectors (プロテクター

Purotekutā

): Orb Darkness has 4 metallic pieces of smaller Protectors on his chest, colored dark blue instead of silver.
Weapons
Darkness Calibur (ダークネスカリバー

Dākunesu Karibā

): A dark version of Orb's Orb Calibur, also known as the dark holy sword.[5]

Darkness Supreme Calibur (ダークネススプリームカリバー

Dākunesu Supurīmu Karibā

)[6]: A copy of the Orb Supreme Calibur, Orb Darkness unleashes an energy stream from his sword.
Darkness Flame Calibur (ダークネスフレイムカリバー

Dākunesu Fureimu Karibā

): A copy of the Orb Flame Calibur, Orb Darkness creates a ring of fire by making a circular motion with his sword then swings, throwing it towards the enemy and causing an explosion.
Gallery
Trivia
Orb Darkness is the reused Ultraman Orb Dark suit, but with the protectors painted blue, and it has blue tribal markings on the face.
His Darkness Calibur sword is a reused of Orb Dark Calibur prop with the turntable for the four elements facing downwards.
The official website for Ultraman Fusion Fight! acknowledges that Orb Darkness lacks the ability to Fusion Up and his Darkness Calibur making up for what he lacked in the former.[5]
References