"I am Orb! I light the darkness and strike at evil!"

―Ultraman Orb introducing himself, The Sunset Wanderer
Ultraman Orb (ウルトラマンオーブ Urutoraman Ōbu) is the titular hero of the Ultraman Orb series. He is able to utilize the abilities of his fellow Ultras to transform and gain their powers through Fusion Up. Orb's human form is the wanderer known as Gai Kurenai, who gained Orb's power from the Voice of Light on Planet O-50.
Conception
Design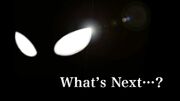 Aesthetically, Ultraman Orb's motif is based on past Ultra Warriors, which is meant to coincide with Tsuburaya's 50th year anniversary of the Ultraman Series. The most concrete evidence is his basic form, Spacium Zeperion, which is based on Ultraman and Ultraman Tiga. Of course, it is also meant as a milestone celebration for the two aforementioned Ultra Warriors' titular series, celebrating their 50th and 20th anniversary respectively. Originally, Ultraman Orb was first teased in a promotional video by Tsuburaya Productions which commemorates the aforementioned anniversary. At the end of the video, a black background with a pair of Ultraman eyes can be seen, with the English letters shown "What's next...?".[1]
Background wise, according to one of Ultraman Orb's writers, Takao Nakano, Orb (and by extension his human form, Gai Kurenai) had his conception based on Ultraseven, whom, like Orb, uses human disguises and started their lives as wanderers on Earth sometime before the setting of their series. Aside from that, other motives and elements include Japanese novel Lone Samurai Monjiro, American actor Clint Eastwood (whose known for his role as wanderers) and singer Tsunehiko Kamijō's image song, Dareka ga Kaze no Naka de. All this is done under the purpose to "re-invoke the wanderer hero in the 21st century world".[2]
History
Ultraman Orb Chronicle
Chapter 1: 'Tree of Life' Arc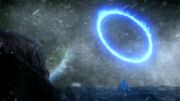 Orb's light appeared as a bright halo of light located at a mountain peak called Crusader's Peak on Planet O-50. Two elite warriors, Gai and Juggler tried to harness the light but out of the two, only Gai was successful, becoming the current giant he is known as. Leaving O-50, their first mission is to stop the threat of Psychi and his army of Bezelbs.[3] Being inexperienced at first, Orb lost against a Bezelb on Planet Rurin until Juggler advised to use his beam properly. Orb later fought with a Kugutsu infected Bemstar and lost once more. After defeating the Bemstar in space, he joined forces with the Kanon Royal Guards Micott and Ricca on a journey to Planet Zain, where Psychi and the Queen Bezelb and her children reside. While chasing Psychi to Kanon, he is joined by two senior Ultras Dyna and Cosmos as they thwart the mad scientist's invasion and saved Kanon Queen Amate/War Deity from Kugutsu infection.
After Gai deserted Juggler for destroying the Tree of Life, the former was sent by Amate towards the Earth to protect the giant tree once more with the help of Earth scientists Shohei and Yui. The Kanon queen ended up following him later on due to her obligation to protect the tree as Gai met more of his predecessors, the Earth-born Ultras Gaia and Agul. After narrowly escaping Psychi's trap with the help of Juggler, Gai/Orb proceeded to protect the Queen Bezelb when she and her younglings defended the Tree of Life from Japanese soldiers but ended up getting infected with the Kugutsu after using Orb's body as a meat shield to protect the War Deity. He nearly succumbed to the poison's effect until Juggler saved him again under his own agenda to surpass the warrior of light. With all of his predecessors gathered, Orb joined them in the final battle against Psyqueen, purifying the War Deity with Shohei's help and rescued Psychi from his own death.
With the Queen Bezelb dead, Gai was commended by his predecessors, before returning to Planet O-50. Orb as Origin The First was upgraded into Orb Origin before embarking on his second mission. Ultraman Orb THE ORIGIN SAGA
Chapter 2: 'I am the Galaxy's Migrating Bird' Arc
Gai/Orb embarked on his second mission, to collect all four elemental powers of the Orb Calibur. While fulfilling his mission, Gai took a boy from Jewel Planet Cobol (宝石惑星コボル Hōseki Wakusei Koboru) named Shorty (ショーティー Shōtī) under his wing and has to solve a mystery during their journey. The first jewel he obtained was the Element of Earth (土のエレメント Tsuchi no Eremento), which was stolen by Shorty from Murnau, after defeating a Dinosaur Tank. They then went to Water Planet Nuock (水の惑星ヌオック Mizu no Wakusei Nuokku) where Orb fought Pestar, Takkong, and Gamakugira, and obtained the Element of Water (水のエレメント Mizu no Eremento) from a pearl in Gamakugira's remains. On Volcano Planet Ganun Api (火山惑星ガヌン・アピ Kazan Wakusei Ganun Api), Orb fought against Gora and defeated it with the Orb Water Calibur, and then obtained the Element of Fire (火のエレメント Hi no Eremento) from the natives as a reward. Finally, on Wind Planet Guillermo (風の惑星ギレルモ Kaze no Wakusei Girerumo), he fought against the Alien Nackle Ramon Brothers (ラモン兄弟 Ramon Kyoudai), and Gai then battled Jugglus Juggler, who had the Element of Wind (風のエレメント Kaze no Eremento) with him, and took it after defeating Juggler. Going back to the Crusader's Peak on O-50, Orb Supreme Calibur had been unlocked. The ring of light did not inform Gai of his next mission.
Chapter 3: 'The Man Who Stole The Black Hole' Arc
After Juggler caused a prison break on Prison Planet 484 (監獄惑星484 Kangoku Wakusei Yon Hachi Yon), Gai was called by the Interstellar Alliance (星間連盟 Seikan Renmei) to stop the former when he threatened to endanger the entire universe by unleashing a black hole. Although Orb had neutralized the prison break, Shorty died after disarming the Balloonga Bomb, making Gai furious, and he beat Juggler to near death but was stopped when officers from the Interstellar Alliance came to arrest the dark madman.
Gai went back to the Crusader's Peak and the Light of Orb gave him the third mission, to stop the awakening of Maga-Orochi, and was given the Orb Ring. With Juggler obtaining the Dark Ring, both had become sworn enemies ever since then as their fight turns into a symbol of light and darkness.
Chapter 4: 'Fierce Battle! Ishtal Civilization' Arc
Gai and Juggler arrived on planet Earth in the year 1800 BC. Orb fought against a Dodongo when Gai was ambushed in a temple. When Juggler unleashed Magatanothor in Ishtal civilization, Orb fought against the monster and obtains Ultraman Tiga's Ultra Fusion Card but their battle resulted in Ishtal Civilization (イシュタール文明 Ishutāru Bunmei) turning into Kemati Buki (Hill of Death) (ケマティ・ブキ (死の丘) Kemati Buki (Shi no Oka)), as well as spawning the theory 4000 years later of an ancient superscience war taking place there, as evidenced by the intense heat turning sand into glass. After defeating Magatanothor, Orb would fight off other monsters and alien invaders as thousands of years pass.
Chapter 5: 'From Rusalka With Love' Arc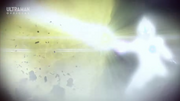 In 1908, Gai/Orb fought against Kingsaurus II at Paikal Lake (パイカル湖 Paikaru Ko) and then Super C.O.V. in the fjord valley during his journey to Rusalka. His fight with Super C.O.V. caused Gai to lose his memories before meeting Natasha Romanová. The villagers nearby also get to know him.
After a month of recuperation, Pris-Ma appears. Orb fought Pris-Ma and destroyed it as well, and their fight somehow allowed Gai to recover his memories of being Orb. With the aforementioned monsters that Orb destroyed, Juggler harvested their cards and released Maga-Zetton. Still having haven't fully recovered from the previous fight, Gai still becomes Orb and fought Maga-Zetton after telling Natasha he will return. When Orb tries to get Natasha away from danger, Maga-Zetton unleashed a fireball that seemingly killed her. Orb then unleashed the full power of Orb Supreme Calibur and killed Maga-Zetton while also engulfing the forest in an event known as the Rusalka Great Explosion (ルサールカ大爆発 Rusāruka Dai Bakuhatsu). As a result, Gai sealed Orb Origin away. Gai obtained Ultraman's Ultra Fusion Card in the aftermath.
In the 1950s, Orb dealt with Hungler, a saucer monster that was brought down by Biranki and started the myth of The Mystery Of The Burlesque Triangle (バーレスク・トライアングルの謎 Bāresuku Toraianguru no Nazo) in New Sarajevo state (ニューサラエボ州 Nyūsaraebo Shū), Rockwez (ロックウェズ Rokkuuezu), somewhere in South America. For the first time, Orb had to rely on Ultraman and Tiga's Ultra Fusion Cards to assume his Spacium Zeperion form.
Chapter 6: 'The Wandering Sun'
Episode 6-0: Overture
Before journeying to Japan, Orb fought Peguila at the Sevel archipelago (セーヴェル諸島 Sēveru Shotō), in Rupashika area, near the North Arctic. At some point, he journeyed to Japan, determined to stop his nemesis. Riding on a freezer truck, he arrives in Tokyo.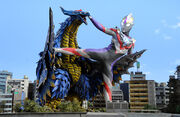 Orb continues to fight against the Lord Monsters in Japan. He comes across the SSP and VTL Squad leader Ittetsu Shibukawa, saving them on numerous occasions and received new Ultra Fusion Cards with every Lord Monster he eliminated. But in truth, he unknowingly assisted Juggler to reawaken Maga-Orochi and succeeded after stealing Ultraman Belial's card from the Planet Invasion Union.
After Juggler stole his cards, Tamayura provided Gai with the cards of Zoffy and Ultraman Belial, with her "destruction" allowed the dark Ultra to provide Gai with his powers. This resulted in the birth of Thunder Breastar, a violent berserker that focuses solely on destruction. Because of its performance against Maga-Orochi, Gai grows fearful of this power and it once more proven fatal when he endangered two people at once; a Z-VTOL pilot and Naomi when she was kidnapped as Galactron's hostage.
Still in doubt of himself, he returned to Rusalka and met Juggler again, who summoned Zeppandon, a Lord Monster that is a fusion of Zetton, Pandon and Maga-Orochi's tail. Although being coerced by Juggler in their fight, Orb refused to utilize Belial's power again and instead use Burnmite's Stobium Dynamite as a cover to escape.
At the height of Gai's guilt trip, Juggler tried to exploit this by creating Zeppandon and challenged his rival. By the time Gai cleared of his doubts, Orb utilized and successfully maintain control of Thunder Breastar, and regains his public reputation by shielding the SSP members from an incoming attack. Under Gai's previous order, Naomi sings the melody that accompanies Gai's Orbnica song, Orb/Gai regains faith in his powers and the ability to transform into his original form, Orb Origin. In this form, he shrugged off incoming attacks and overpowered Zeppandon using the Orb Calibur before finishing off the monster for good. Despite regaining Orb Origin, the usage of said form was reserved for dire situations, as shown in against Tarude, Maddock's Hyper Zetton and Juggler himself.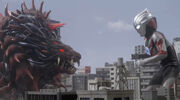 A threat that was predicted by many had arrived in the form of Magatano-Orochi, the adult form of Maga-Orochi which was thought to have been killed by Orb. The Ultra Warrior faced it again but even the same form he used before (Thunder Breastar) and his original power can't deliver the slightest damage to the monster. The Giga Lord Monster Strikes Back An exhausted Gai was forced to deal with Juggler when he kidnapped Naomi in hopes of driving the former to despair. When Naomi confidently took responsibility for her own death, Juggler wasn't able to carry out the deed and instead rescued her from a crashed Z-VTOL. This event revealed that he was Natasha's rescuer in the past and Gai embraced his rival in gratitude.
Leaving Naomi in Juggler's care, Gai transformed into Orb and charged with all his might, using Spacium Zeperion, Burnmite and finally Orb Origin but neither of them can hurt the beast. Juggler assisted his rival after persuasions from Naomi and the rest of the SSP and VTL reveal the monster's weak spot. While Juggler was restrained by Magatano-Orochi, Orb used the powers of his Ultra Fusion Cards and fired their signature beams at the monster, ending the prophesied destruction from the ancient past. He reverted to Gai, bidding farewell to Naomi (who actually knew his true identity from the start) and left to parts unknown. The Wandering Sun
Chapter 7: 'Space Witch Murnau's Counterattack, Sadis' Return'
Orb was fighting against Galactron in Hawaii, who was rebuilt and modified by Murnau. At the verge of getting turned to jewellery, help arrived from Ultraman Zero. Orb then finished off Galactron with Zero's help. Zero then warns Orb that someone is sending monsters to the Earth before leaving to investigate in another universe. Gai returned to the SSP after a long time traveling around the Earth and met Ultraman X in his X Devizer, who sought his help to search for his separated host, Daichi Oozora. But during that time, Murnau and her forces appeared and captured X as part of her space jewel collection.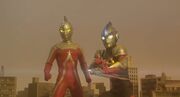 Upon meeting Sadis, Gai transforms into Orb and fought against each other but Sadis manages to overpower Orb and wanted to continue the fight until the aliens summoned by Murnau takes Orb away. Orb would later team up with Ultraman X against Darebolic and almost finishing Darebolic until Sadis intervened. Orb transforms into Thunder Breastar to deal with Sadis but witnessed X becoming crystal by Darebolic and defeated by Sadis flying punch. After receiving the Ultra Fusion Cards from Victory, X and Ginga, Orb transforms into his new form, Orb Trinity to combat Darebolic, Alien Temperor and Alien Hipporit while receiving assistance from Juggler as Zeppandon. Orb would later receive help from Victory, Ginga, X and Ultraseven in defeating the aliens, Sadis and Darebolic. After a long battle, Orb and the other Ultras fly off from the scene. Orb would later follow Zero after Zero invited him to help him and X in stopping Desastro. Ultraman Orb The Movie: Let Me Borrow the Power of Bonds!
Chapter 8: 'Super Sky Great Violent-beast Desastro'
Orb and Zero fly off to space to defeat Desastro. While they were waiting for it, Desastro opens a space-time distortion and causes a violent inter-dimensional storm. Xio launches all their spacecrafts to provide support, and Ultraman X joins Orb. Together, they search for Desastro, and are surprised when they see its true form. This crossover marks X's final story.
Chapter 9: 'Messengers of the Netherworld Mage'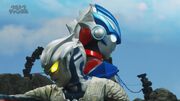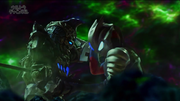 After fighting against a Demaaga on Earth, Orb trailed its energy to space and assisted Zero in defeating Juda Spectre and Mecha Gomora. Seeing Demaaga's case related to the darkness in Planet Yomi, Orb offered Zero a hand and the two were greeted by its mastermind Reibatos. Although Orb managed to catch him, he was defeated due to Reibatos' immortality. This leaves him in training with Seven and Zero for 10 years and eventually received a new form called Emerium Slugger. Shortly after defeating Tyrant, he pursued Reibatos in his dimension and defeated the villain via continuous attacks. In the Land of Light, Orb was offered Star Marks but denied them as he is just a passing wanderer and left. Ultra Fight Orb
Chapter 10: 'Migrating Birds, Go To The Sky'
Not much is known about Orb's last story in the Ultraman Orb Chronicle other than Gai, Juggler and Biranki going off on another adventure.
Ultraman Geed The Movie: Connect the Wishes!
Orb appears to help Ultraman Geed face Galactron MK2, who was sent by Gillvalis to Earth to find the Red Steel (Giga Finalizer). The two fought a difficult battle and then they were joined by Ultraman Zero. When Geed was shot by Galactron MK2 and sent to cyberspace, Orb used the power of X's Gomora Armor to enter that cyberspace to rescue Geed. Galactron MK2 targeted Geed with a barrage of beams, but Orb and Zero stand in the way of the incoming attack and seemingly died. This causes Geed to be furious, and he finished off Galactron MK2.
Later, Orb returns, somehow having survived the previous encounter, to help Juggler and Gukulushisa face off against the Galactron Army. They are also joined by Zero Beyond, who also survived through the use of his Shining Star Drive. After trying and failing to destroy the Galactrons, Geed joins them as Ultimate Final and the Galactron Army was defeated through the efforts of the four heroes. Orb, Zero and Geed fly to Cyber Planet Kushia to face Gillvalis, and he helped Zero and Geed destroy its Perfect form by blasting it with the Orb Supreme Calibur. After Gillvalis' threat is ended, Gai Kurenai goes off on another adventure somewhere else, with his eternal rival Juggler following him not too far behind. Ultraman Geed The Movie: Connect the Wishes!
Pre-Utraman R/B
At an unknown point in time, Orb went to an alien planet where he saved a young Cereza from an unknown monster, which inspired him to become like Orb someday. If Makoto Aizen's roleplay of him is accurate, Orb first used Spacium Zeperion's Sparion Beam but failed and he then used Orb Origin to finish off the threat via the Orb Supreme Calibur. Who Are You?
Ultraman R/B
Main article: Ultraman Orb Dark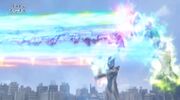 A dark imitation of Orb, transformed into by Makoto Aizen, appears in this series. The "Aura of Orb Origin" also appears to help Rosso and Blu fire the Triple Origium Beam. An apparition of Orb later appears alongside the other New Generation Ultras firing their signature beams when Ruebe is activating the New Generation Barrier to counter an enemy attack. Enshrined by Extremity
Ultra Galaxy Fight: New Generation Heroes
Ultraman Orb had returned to the Crusader's Peak of O-50. He is suddenly attacked by Ultraman X Darkness and Ultraman Geed Darkness, who attack him to drain his light energy, before Victory comes in and stops them mid-process. He holds them off just long enough for the both of them to escape and regroup with the other New Generation Heroes at the Land of Light. When everyone was gathered, they had a group talk to discuss what had happened to them. Ultra Dark-Killer uses a projection to inform the New Generation Heroes that Ultraman Zero and Ultrawoman Grigio are being held in the Dark-Killer Zone on Planet Tenebris, and to come and face him if they want to rescue their comrades.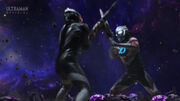 Upon arriving, X, Orb and Geed face off against their respective Darkness copies, but are unable to defeat them. Remembering the battles they fought alongside Zero, Orb changes to Emerium Slugger and defeats Ultraman Orb Darkness using the ES Spacium.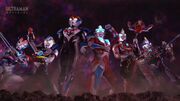 However, Ultraman Tregear revives Ultra Dark-Killer and Ultraman Zero Darkness, the former growing to gigantic size due to his overflowing power. To help Zero defeat his Darkness copy, Geed uses the energy of Ginga, Victory, X and Orb to transform Zero into Zero Beyond. They then transform into their strongest forms to battle Ultra Dark-Killer, with Orb changing to Orb Trinity. After the New Generation Heroes assault Dark-Killer, Taro arrives and advises them to lend their power to the Strium Brace. Upon doing so, Ginga performs the New Generation Dynamite and destroys Dark-Killer and the Dark Palace. The New Generation Heroes and Zero regroup, but were confronted by Ultraman Tregear, who admits he was the mastermind behind these events. The New Generation Heroes decide to go after Tregear. Ultra Galaxy Fight: New Generation Heroes
Ultraman Taiga
The New Generation Heroes faced off against Tregear near the Land of Light, but were defeated easily. When the Tri-Squad arrived, Orb, Rosso and Blu gave Ultraman Taiga their lights as a gift, which manifested in the form of Bracelet-type Ultra Taiga Accessories. Buddy Go!
Ultraman Taiga The Movie: New Generation Climax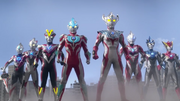 After Tregear was defeated by Taiga, a part of Grimdo escaped from his body. The New Generation Heroes tracked down Grimdo in space and sealed it away in a crystal, at the cost of their Ultraman powers. In their human forms they descended to Earth to protect Hiroyuki Kudo from the approaching Grimdo. Once Gai regained his powers from the Orb-let, the New Generation Heroes face off against Tregear, the Grimdo-possessed Taro and Tregear's monsters, with Orb fighting against Night Fang. After their opponents receive power ups from Grimdo, Orb transforms into Orb Trinity to finish off Segmeger. Initially being trounced by Grimdo after it had absorbed Tregear, the New Generation Heroes fused with Taiga into Ultraman Reiga and defeat Grimdo. The New Generation Heroes give their parting words to the Tri-Squad and Hiroyuki and return to their home worlds. Ultraman Taiga The Movie: New Generation Climax
Ultra Galaxy Fight: The Destined Crossroad
Following Tregear's defeat, the New Generation Heroes were dispatched across the universe to track down the Devil Splinters, the fragmented remains of Ultraman Belial, which could be used for nefarious purposes in the wrong hands. In their hunt for them, Orb, Rosso and Blu arrived on Planet Liquitor in the nick of time to save their fellow O-50 Ultra Fuma from Gina Spectre. Despite their efforts, Gina proved to much for all of them, escaping with a Devil Splinter in hand.
Profile
Stats
Height: 50 m
Weight: 50,000 t
Home World: Planet O-50
Weakness: Like all Ultras, Orb's Color Timer is subjected to the three-minute limit. Once his Timer blinks, the Fusion Up of the Ultra Warriors will start to break apart.
Body Features
Protectors (プロテクター

Purotekutā

): Orb has Protectors in his Spacium Zeperion, Hurricane Slash and Emerium Slugger forms.
Ultra Horns (ウルトラホーン

Urutora Hōn

): In his Burnmite form, Orb has Ultra Horns similar to Taro's in shape and Father of Ultra's in size.
Sluggers (スラッガー

Suraggā

): In his Hurricane Slash form, Orb has a pair of Sluggers attached to his head. When in use, they fire out energy projections. As Emerium Slugger, he gains an additional Slugger in the center of his head, inherited from Ultraseven's Eye Slugger.
Ultra Breastar (ウルトラブレスター

Urutora Buresutā

): In his Thunder Breastar form, Orb inherits Zoffy's signature badges of honor on his shoulders.
Cyber Mechanic (サイバーメカニック

Saibā Mekanikku

): Orb's Ultra Armor in Lightning Attacker form, which is modeled after futuristic technology.
Body Crystals: As Lightning Attacker, Orb possesses these in the same places that Ginga does. As Orb Trinity, they are yellow in color, and are located on his hands and shins, with his crest simply being colored blue as a reference to Ginga's.
Transformation
Forms
Combinations
The Ultras used in each of Orb's forms share something in common with each other.
Fusion Up (Live-Action)
Fusion Up (Game-Exclusive)
Ultraman Gaia + Ultraman Victory = Photon Victorium: They are both Earth-themed Ultra Warriors with their powers being drawn from Earth-like energies (Gaia Energy and Victorium respectively). They have also both received their upgrades from blue-colored secondary Ultra Warriors, with both forms coincidentally associated to swords.

Gaia: Ultraman Gaia V2 via Ultraman Agul's human host, Hiroya Fujimiya, giving him his light.
Victory: Ultraman Victory Knight via Ultraman Hikari creating the Knight Timbre for him to utilize.

Ultraman Tiga + Ultraman Max = Sky Dash Max: They are both connected to ancient human civilizations (the former is part of the Ultra-Ancient Giants of Light, while the latter had banished Alien Tarla's brethren away from Earth). Their fighting styles are also primarily based on speed, strength, and aerial combat. During the final episodes of their respective series, they were petrified after losing to gigantic opponents before they were revived and able to fight on the same level. After their job on Earth had ended, their human hosts married the female protagonist of their series in later life, with recent media implying their descendants ended up following their footsteps. It is also known that they had fought a pair of Kaiju in their first appearance, with one of them returned sometime later in their series as upgraded variants:

Tiga: Fought Golza and Melba upon his reawakening. Golza returned in episode 18 as Fire Golza after escaping the last battle.

Ultraman Cosmos + Ultraman X = Full Moon Xanadium: They both have human hosts (Musashi Haruno and Daichi Oozora respectively) who are known for being pacifists, with their true power lies in how they cease conflicts without needing to kill the monsters. Their human hosts as well were notorious for hardly taking drastic countermeasures during monster attacks and comparably the weakest in martial arts practice. Interestingly enough, in episode 14 of Ultraman X, Cosmos is one of the inspirations for Daichi to realize his dream of befriending monsters, as both Ultra Warriors have fought against brainwashed monsters during their series' course. Both of their Human Hosts also have long-time friendly kaiju, whom the Ultras were forced to fight after they were infected by dark energy organisms. Predating Ultraman X, Cosmos is the first Ultraman with the ability to digitize himself, doing so to travel within a machine and stop a dream invading monster.
Ultraman Leo + Ultraman Zero = Leo Zero Knuckle: They were both known for being hot-blooded and short-tempered individuals who originally only wanted to become stronger for their own motives until the experiences they received in their lives gave them character development, allowing them to mature. In real life, their designs are based on Ultraseven archetypes. They are also Judo practitioners, with the latter learning from the former, and were even instructors at one point in their lives where they provided their students with harsh and handicapped training.

Leo: Trained Zero by having him imprisoned in a Tector Gear armor.
Zero: Trained Ginga and Victory's human hosts, Hikaru Raido and Sho respectively, by having them handcuffed to each other's arms.

Ultraman Tiga + Ultraman Dyna = Zeperion Solgent/Power Strong: They originate from the same universe and were the first two Ultra Warriors to demonstrate the ability to change not only their colors, but their combat performances as well. Dyna is, in fact, Tiga's spiritual successor, which is heavily acknowledged both in-series and by the fans. At one point in their respective series, their powers were exploited by individuals in the hopes of reanimating an Ultra Warrior for their own evil purposes. In several of their battles, they were defeated by gigantic opponents while bearing their strength-oriented forms (Power Type and Strong Type respectively). According to the official website, both Tiga and Dyna are in fact Ultra Warriors under the situation called as "human Ultraman" (人間ウルトラマン

Ningen Urutoraman

) due to their host in full control of their bodies. It is also notable that one of their Type Change forms has several homages to the original Ultraman.

Tiga: Power Type is an all-red form which possesses brute strength and raw firepower. Ultraman is known for being able to bench-press with the load of 200,000 t and having multiple ranged attacks.
Dyna: Miracle Type is an all-blue form which has aspects of both ranged and ESP-based attacks. Similar to how Ultraman is immune to electricity-based attacks, Dyna Miracle Type can manipulate electricities, to the point of having used it once to self-recharge his own Color Timer.

Ultraman Dyna + Ultraman Belial = Thunder Miracle: They both have electricity and black hole-based attacks (Revolium Wave and Belial Black Hole Thunder respectively) and are related to Ultraman Zero in several ways (the former is his close friend, while the latter is his archenemy). Their voice actors are also close friends with his. They have also both united with said Ultra Warrior, resulting in him gaining access to several powers.

Dyna: Fused with Zero alongside Cosmos to become Ultraman Saga, which in turn provided him with access to his StrongCorona and LunaMiracle mode changes as a side effect.
Belial: Possessed Zero to assassinate the Ultimate Force Zero, but at the same time gave him access to Shining Zero which helped to expel Belial and undo the damages caused by him.

Ultraseven + Ultraman Ace = Slugger Ace: They are both members of the Ultra Brothers who were infamously known for attacks that dismember their opponents (Ultra Knock Tactics and Ultra Guillotine respectively). They are also the first two forward crest Ultra Warriors in the franchise's history and their finishing attacks are performed as L-style beams. They also use ESP in conjunction to their weapons and were killed in episode 39 of their series before being revived. It is also known that they lost their family members in their past and was taken care of by someone else:
Ultraman Agul + Ultraman Hikari = Knight Rikidater: They are both blue secondary Ultra Warriors with a transformation item on their right wrist (Agulater and Knight Brace respectively) who were known for their ability to conjure energy swords from their arms, as well as being initially portrayed as the anti-heroes of their series until eventually allying themselves with the titular Ultra Warriors. During their respective debut, both used their signature moves to save their main Ultras. Agul's human host, Hiroya Fujimiya, and Hikari are also scientists and were once driven mad from the deaths of a certain person. They are also both responsible for giving the titular Ultra Warriors an upgraded form.

Agul: Gives Gaia his light to become Gaia V2 and Gaia Supreme.
Hikari: Lent Mebius his Knight Brace, allowing the former to become Mebius Brave.

He also created the Knight Timbre for Victory to become Victory Knight.

Ultraman + Ultraman Nexus = Spacium Schtrom: The latter, as well as his lesser form Ultraman the Next, had his design themed after the former and his series was meant to be a reboot of the original series. Ultraman and Nexus' first appearance in their respective series/movie was when they encountered a pilot and merged with them to save their lives while fighting against the monster they had chased to Earth. Predating Ultraman's first arrival to Earth, Nexus arrived first in his original form, rescuing an ancient civilization from a monster. Similar to Ultraman's host Shin Hayata, Nexus' female human hosts (Nagi and Sayuri) are sub-captains of their respective attack teams. They have also both received evolution as their series progressed.

Ultraman: Type A, Type B, and Type C.
Nexus: The Next (Anphans & Junis), Nexus (Anphans, Junis, & Junis Blue), and Noa.

Ultraman Agul + Ultraman Belial = Thunder Stream: Their shared features are summoning weapons from their hands (Agul's Agul Saber and Belial's Kaiser Belial Claws). Also, Belial's Early Style eyes shares the same eye design with Agul. Agul's host (Hiroya Fujimiya) and Belial are known for being prodigies in their respective talents, but at the same time are labelled as lawbreakers in certain aspects, and are capable of manipulating monsters through certain devices (Fujimiya via a mind-controlling device and Belial via the Giga Battle Nizer). Whereas Agul is an Earth-born Ultraman with an association to different bodies of water, Belial's current state is designed by Masayuki Gotou after a shark.
Ultraman Mebius + Ultraman Ginga = Mebium Especially: Mebius and Ginga's host Hikaru Raido received guidance from Taro, with the former being his student. Their weapons are derived from their own transformation items and share the ability to conjure swords from their arms, as well as flame-based projectile attacks. During the final episodes of their Ultraman Series, both defeated by the black-colored final villain. They have also utilized the power of the core six Ultra Brothers and combined with the secondary Ultra Hero of their respective series by synchronizing their transformation devices.
Zoffy + Ultraman Hikari = Breastar Knight: Both are the oldest members of the Ultra Brothers whose age surpassed the original Ultraman (20,000 years old) and acquired their Star Marks due to their greatest achievements in the Land of Light (Zoffy for his fight against an army of monsters and Hikari for his discovery to revive fallen Ultras). Both were also known to have worn sets of armors at some point in time, but are no longer shown utilizing them in the present day. In Ultraman Mebius, both had a major involvement that contributed to the story's plot and bonded with Crew GUYS' captains as human hosts, supporting Mebius in his final battle against Alien Empera. Their major involvement in the series are:

Zoffy: Saving Shingo Sakomizu from a fleet of alien saucers, therefore allowing TDF to form GUYS upon his return. Zoffy also merged with Sakomizu to assist Mebius Phoenix Brave/Crew GUYS during the final battle.
Hikari: Saving former GUYS captain Kazuya Serizawa and assisted Mebius in many of his battles on Earth. He would also make a temporary bond with Ryu Aihara to fight against Alien Empera and becomes a crucial part in the formation of Mebius Phoenix Brave.

Ultraman Taro + Ultraman Max = Strium Galaxy: They are the first main Ultra Warriors in their respective eras to be based on Ultraseven archetypes and received their bracer weapons from another Ultra. Their series are made to be mostly lighthearted while still retaining an element of seriousness. They also parted ways with their human hosts instead of maintaining connections with them. Aside from that, they had also faced monsters/aliens with connections to Seven.

Taro: Fought against Eleking, who was revived by the moon.
Max: Met the Alien Metron that survived his destruction, who wished to depart from Earth on good terms.
Trinity Fusion
Ultraman Ginga + Ultraman Victory + Ultraman X = Orb Trinity: All three Ultra Warriors made their serial debut within New Ultraman Retsuden. They are the first Ultramen whose devices and powers were derived from collectible devices (particularly Spark Dolls) and shared the common ability to defeat their targets with non-lethal abilities (either transforming them into Spark Dolls in Ginga and Victory's case or pacifying them in X's case). Their theatrical appearances as well involve them receiving assistance from a large number of Ultra Warriors and faced against an opponent who is either capable of summoning past villain copies (Etelgar's Eteldummies and Zaigorg's Devil Clone Beasts) or rather being copies themselves (Bug Rays of Evil Tiga, Chaos Ultraman, and Chaosroids). Finally, the Ultramen and their hosts possess connections to Ultra Kaiju in several ways.

Ginga & Hikaru Raido: The former had Dark Lugiel as his original half before they separated, while the latter is capable of transforming into Kaiju via the Ginga Spark.
Victory & Sho: The former is connected to Shepherdon as beings empowered by Victorium and utilizes Ultlance that manifest the Kaiju's powers via his right arm, while the latter can utilize Kaiju Spark Dolls as energy bullets via the Victory Lancer.
X & Daichi Oozora: The former utilizes Cyber Armor to combine himself with any corresponding Cyber Kaiju, while the latter can use the X Devizer (or Xio Devizer in X's absence) to utilize the Cyber Cards for either summoning them to real-life or utilizing a portion of their powers through Xio machinery.
Other Media
Ultraman Hit Song History: New Generation Chapter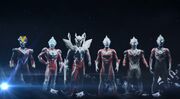 In this music album, Orb alongside the other New Generation Heroes were sealed by Etelgar. However, Orb was freed from his captive after Ultraman Zero recruited Ultraman Rosso and Ultraman Blu to fight against Etelgar. Ultraman Hit Song History

Trivia
Orb is:

The third Ultra whose Color Timer is modeled after an English letter, preceded by X, whose timer is in the shape of an X, and Victory, whose timer is in the shape of a V.
The second Ultra to have a host who is not native to Earth. The first is Ultraman Justice. However as time passed, Gai eventually addressed both him and Ultraman Orb as a singular being and in early information provided by Tsuburaya Productions, Gai is stated to be Ultraman Orb's human form, thus hinting that his situation alluded that of the Residents of the Land of Light.

Eventually, it is revealed that Gai had evolved into Orb.

The first form-changing Ultras to have a unique rise for each of his forms.

Orb's Color Timer's sound is a low pitch version of Zero's Color Timer.
In terms of Orb's Fusion Up forms, 15 Ultra Warriors (Ultraman, Zoffy, Seven, Taro, Tiga, Dyna, Agul, Max, Mebius, Hikari, Zero, Belial, Ginga, Victory, and X) have been used in more than one combination.

Of these Ultra Warriors, Tiga has the most combinations with 4. Dyna, Zero, Belial, Ginga, and X follow second with 3 each, while the others have 2 each. Jack, Cosmos, and Nexus are only used in one fusion form each, while 80 and Justice were never used.
Of all game-exclusive Fusion Up forms, Lightning Attacker is the first one to be shown in both stage-show and mannequin/suit appearance. However, the latter two are featured with normal shoe-style feet instead of pointed feet.

Hurricane Slash's teleportation ability comes from Ultraman Saga rather than either Jack or Zero, with the latter being one of the main components used to make up this fusion. Orb used this ability to keep up with and counter Hyper Zetton Deathscythe in a similar manner to Saga with the original Imago Hyper Zetton.
Because of how ironic Thunder Breastar's combination is, a lot of fans (mostly from Japan) tend to create illustrations featuring Belial having an internal conflict with Zoffy in various ways.

This joke is acknowledged and taken further in the Ultraman New Generation Event where Thunder Breastar is portrayed as such in front of the viewers. Examples include struggling to either shake hands or attack the visitors and attacking a fan who wears a cap with a resemblance to Ultraman Zero (Belial's archenemy).

Orb Origin's markings resemble that of the original Ultraman's, thus making him one of the Ultra Warriors themed after the latter, with Orb Origin The First's primarily red markings only going to further point to the connection. In particular, his markings (some of which were retained in his In-Series Fusion Ups) were used to represent Ultraman-Type Ultras when performing a Fusion Up during the series.

Despite said form being his original form, the official website of Tsuburaya Productions listed Orb Spacium Zeperion as his default form.

Orb Origin's elemental powers seem to stem from or at least parallel the Lord Monsters, minus Maga-Zetton, Magatanothor, and Maga-Orochi.

Wind = Maga-Basser
Ground = Maga-Grand King
Water = Maga-Jappa
Flame = Maga-Pandon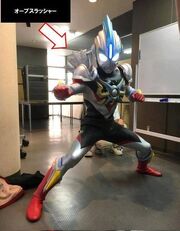 In early photographs of Orb Trinity, the suit lacked coloration on its shoulder armor and Orb Slasher's serrated blades.
Of all of Orb's game-exclusive/game-originating Fusion Up forms so far, only Leo Zero Knuckle and Power Strong retain Orb's normal Protectors.
Orb set a new record for the highest number of crest weapons on a single Ultra, having 3 in Emerium Slugger form. His new record would be beaten by Zero Beyond, who has 4.
In an official video showcasing Power Strong, its signature finisher is named as Garlacium Hammer, while the Ultraman Fusion Fight official website names it as Garlacium Bomber. This resulted in some confusion about the name of its finisher until Version 5 confirmed it to be Garlacium Bomber.
Of all of Orb's fusions, only Orb Trinity does not have a unique attribute to itself in Ultraman Fusion Fight!; its attribute is Light.
Thunder Stream, despite having Belial as one of its components, does not have orange/red eyes.

Thunder Stream also doesn't have Belial's muscular frame as part of its design. Instead, some of its design was derived from Belial's original form, Early Style, before his Reionics conversion.

Towards the end of Ultra Fight Orb, Zoffy remarks that Orb's efforts in defeating Reibatos are worthy of giving him a Star Mark, and Zero even offers him to join the Inter Galactic Defense Force. Orb politely declined both offers as he states that he managed to defeat Reibatos because of the help he had received and that he prefers being a vagabond who moves throughout the universe.
In scrapped concept art, Orb had a more traditional-looking Color Timer, with an orange ring around it (which became his Color Timer in later revisions), and a forward crest. Thunder Breastar also used his normal eyes instead of Belial's.[12]
In Ultraman Fusion Fight!, the Orb Supreme Calibur is misspelled as Orb Suprium Calibur (オーブスプリウムカリバー

Ōbu Supuriumu Karibā

). It has been rectified as of the release of Capsule Fusion.
According to designer Masayuki Goto:
Despite being the first of the O-50 Ultras, Orb is an odd one out since he is the only one of them who has their own name, and was not to be named after the user's original humanoid form (Gai).
The blue gem located below Orb's Color Timer was originally designed as his Color Timer. [19]
References