Ultraman Nice (ウルトラマンナイス Urutoraman Naisu) is a spin-off of the Ultraman Series. The series was released as a series of 1-minute commercials for Bandai Ultraman toys during the 1999 Japan reruns of Ultraman Tiga.
Synopsis
Ultraman Nice arrives from the planet TOY-1 to battle Alien Zagon and his cronies Momo Zagon, Tabu Zagon, and Blublu Zagon, who are attacking Earth for Bandai figures. However, at each attack, Ultraman Nice managed to defeat them and, at the end of the series, the aliens were finally vanquished.
Episodes
GOKAZOKU

Cosplay Costume (For kids)
GUTS Cosplay Costume (For kids)
GUTS Wing (1 & 2)
Characters
GOKAZOKU
Ikemazu Yumeboshi

Kiku Yumeboshi

Akemi Yumeboshi

Cosmo Yumeboshi

Mirai Yumeboshi
Ultras
Kaiju
Cast
Suit Actors
Music
Opening Theme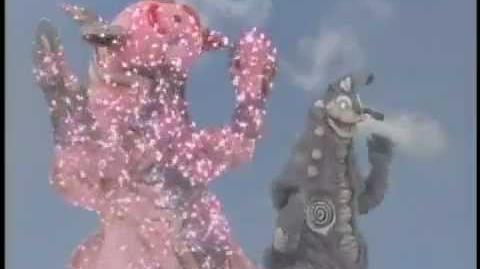 Trivia
Nice is the only series where the defense team, GOKAZOKU, are all a family.
While not released in home video, the series is released on TSUBURAYA IMAGINATION starting from May 5, 2022.