Line 20:
Line 20:
 

|Preceded by = [[Ultraman Nice (infomercials)|Ultraman Nice]]

 

|Preceded by = [[Ultraman Nice (infomercials)|Ultraman Nice]]

 

|Succeeded by = [[Ultraman Cosmos (series)|Ultraman Cosmos]]

 

|Succeeded by = [[Ultraman Cosmos (series)|Ultraman Cosmos]]

−

|toku = https://toku1.vhx.tv/ultraman-neos

+

|toku = https://toku1.vhx.tv/ultraman-neos

−

}}{{Nihongo|'''''Ultraman Neos'''''|ウルトラマンネオス|Urutoraman Neosu}} is a [[Wikipedia:Japan|Japanese]] [[tokusatsu]] show, being the 15th show in the [[Ultra Series]] produced by [[Tsuburaya Productions]]. Ultraman Neos was initially intended as a TV series but the project was shelved. Years later, Tsuburaya turned the concept into a 12-episode [[Wikipedia:direct-to-video|direct-to-video]] series. In spite of the appearance of similar designs and a cameo by [[Zoffy]], the series is set in an alternate universe.

+

{{Nihongo|'''''Ultraman Neos'''''|ウルトラマンネオス|Urutoraman Neosu}} is a [[Wikipedia:Japan|Japanese]] [[tokusatsu]] show, being the 15th show in the [[Ultra Series]] produced by [[Tsuburaya Productions]]. Ultraman Neos was initially intended as a TV series but the project was shelved. Years later, Tsuburaya turned the concept into a 12-episode [[Wikipedia:direct-to-video|direct-to-video]] series. In spite of the appearance of similar designs and a cameo by [[Zoffy]], the series is set in an alternate universe.

 
 
 

[[TOKU (TV network)|Toku]] premiered the series in the United States on May, 1, 2017.<ref>http://www.crunchyroll.com/anime-news/2017/04/20/toku-channel-to-bring-ultraman-neos-to-us</ref>

 

[[TOKU (TV network)|Toku]] premiered the series in the United States on May, 1, 2017.<ref>http://www.crunchyroll.com/anime-news/2017/04/20/toku-channel-to-bring-ultraman-neos-to-us</ref>

 
+
 

==Plot==

 

==Plot==

−

In the first decade of the 21st Century on [[Earth]], the rising of the population results in low quality of life, as well the increasing number of ESP incidents and [[:Category:Aliens|alien]] invasions. At [[Nebula M78]], the information service of the Space Defense Force watches these phenomena and throughout the Space Security Service, a ramification of the group sent a warrior to Earth named [[Ultraman Neos (character)|Ultraman Neos]] and his commander {{Nihongo|'''[[Ultraseven 21]]'''|ウルトラセブン21|Urutoraseben Tsū Wan}}. Upon arriving on Earth, Ultraman Neos secretly merges with [[Genki Kagura]] to help [[HEART (Hi-tech Earth Alert and Rescue Team)]] fight monsters both of terrestrial and extraterrestrial origin.

+

In the first decade of the 21st Century on [[Earth]], the rising of the population results in low quality of life, as well the increasing number of ESP incidents and [[:Category:Aliens|alien]] invasions. At [[Nebula M78]], the information service of the Space Defense Force watches these phenomena and throughout the Space Security Service, a ramification of the group sent a warrior to Earth named [[Ultraman Neos (character)|Ultraman Neos]] and his commander {{Nihongo|'''[[Ultraseven 21]]'''|ウルトラセブン21|Urutoraseben Tsū Wan}}. Upon arriving on Earth, Ultraman Neos secretly merges with [[Genki Kagura]] to help [[HEART (Hi-tech Earth Alert and Rescue Team)]] fight monsters both of terrestrial and extraterrestrial origin.

 
 
 

The general of the troop, even knowing the uncommon situation in the area, found it inadequate to take the veteran Seven 21 of his rank and asked for support of the Warrior Command Group of the Ultra War Unit. The organization selected a young warrior of the elite troop, Ultraman Neos, with Ultraseven 21 giving him support when necessary.

 

The general of the troop, even knowing the uncommon situation in the area, found it inadequate to take the veteran Seven 21 of his rank and asked for support of the Warrior Command Group of the Ultra War Unit. The organization selected a young warrior of the elite troop, Ultraman Neos, with Ultraseven 21 giving him support when necessary.

 
 
 

==HEART Members==

 

==HEART Members==

−

{{main|HEART}}

+

{{main|HEART}}

 

HEART, also spelt as HRT, stands for Hi-tech Earth Alert and Rescue Team.

 

HEART, also spelt as HRT, stands for Hi-tech Earth Alert and Rescue Team.

 
 
−

== Cast ==

+

==Cast==

−

* {{Nihongo|[[Genki Kagura]]|神楽元気|Kagura Genki}}: {{Nihongo|[[Jun Takatsuki]]|高槻純|Takatsuki Jun}}

+

*{{Nihongo|[[Genki Kagura]]|神楽元気|Kagura Genki}}: {{Nihongo|[[Jun Takatsuki]]|高槻純|Takatsuki Jun}}

−

* {{Nihongo|[[Gonpachi Minato]]|港権八|Minato Gonpachi}}: {{Nihongo|[[Kyusaku Shimada]]|嶋田久作|Shimada Kyusaku}}

+

*{{Nihongo|[[Gonpachi Minato]]|港権八|Minato Gonpachi}}: {{Nihongo|[[Kyusaku Shimada]]|嶋田久作|Shimada Kyusaku}}

−

* {{Nihongo|[[Hironobu Uematsu]]|植松弘展|Uematsu Hironobu}}: {{Nihongo|[[Shigeki Kagemaru]]|影丸茂樹|Kagemaru Shigeki}}

+

*{{Nihongo|[[Hironobu Uematsu]]|植松弘展|Uematsu Hironobu}}: {{Nihongo|[[Shigeki Kagemaru]]|影丸茂樹|Kagemaru Shigeki}}

−

* {{Nihongo|[[Takayoshi Hino]]|日野隆義|Hino Takayoshi}}: {{Nihongo|[[Taketora Morita]]|森田猛虎|Morita Taketora}}

+

*{{Nihongo|[[Takayoshi Hino]]|日野隆義|Hino Takayoshi}}: {{Nihongo|[[Taketora Morita]]|森田猛虎|Morita Taketora}}

−

* {{Nihongo|[[Nana Hayami]]|速水奈々|Hayami Nana}}: {{Nihongo|[[Atsuko Rukawa]]|瑠川あつこ|Rukawa Atsuko}}

+

*{{Nihongo|[[Nana Hayami]]|速水奈々|Hayami Nana}}: {{Nihongo|[[Atsuko Rukawa]]|瑠川あつこ|Rukawa Atsuko}}

−

* {{Nihongo|[[Ayumi Kitabayashi]]|北林歩|Kitabayashi Ayumi}}: {{Nihongo|[[Mika Sakamoto]]|坂本三佳|Sakamoto Mika}}

+

*{{Nihongo|[[Ayumi Kitabayashi]]|北林歩|Kitabayashi Ayumi}}: {{Nihongo|[[Mika Sakamoto]]|坂本三佳|Sakamoto Mika}}

−

* {{Nihongo|[[Yoko Fujiwara]]|藤原陽子|Yoko Fujiwara}}: {{Nihongo|[[Satomi Murakami]]|村上聡美|Murakami Satomi}}

+

*{{Nihongo|[[Yoko Fujiwara]]|藤原陽子|Yoko Fujiwara}}: {{Nihongo|[[Satomi Murakami]]|村上聡美|Murakami Satomi}}

−

* {{Nihongo|[[Kisaragi]]|如月|Kisaragi}}: {{Nihongo|[[Sakae Kimura]]|木村栄|Kimura Sakae}}

+

*{{Nihongo|[[Kisaragi]]|如月|Kisaragi}}: {{Nihongo|[[Sakae Kimura]]|木村栄|Kimura Sakae}}

−

* {{Nihongo|[[Katagiri]]|片桐|Katagiri}}: {{Nihongo|[[Wataru Shihodo]]|四方堂亘|Shihodo Wataru}}

+

*{{Nihongo|[[Katagiri]]|片桐|Katagiri}}: {{Nihongo|[[Wataru Shihodo]]|四方堂亘|Shihodo Wataru}}

−

* {{Nihongo|[[Ultraseven 21|Ultra Seven 21]] (voice)|ウルトラセブン21|Urutorasebun 21}}: {{Nihongo|[[Isshin Chiba]]|千葉一伸|Chiba Isshin}}

+

*{{Nihongo|[[Ultraseven 21]] (voice)|ウルトラセブン21|Urutorasebun 21}}: {{Nihongo|[[Isshin Chiba]]|千葉一伸|Chiba Isshin}}

−

* Narration: {{Nihongo|[[Ikuya Sawaki]]|沢木郁也|Sawaki Ikuya}}

+

*Narration: {{Nihongo|[[Ikuya Sawaki]]|沢木郁也|Sawaki Ikuya}}

 
 
 

==Media==

 

==Media==

 

===Cameo===

 

===Cameo===

−

* ''[[Mega Monster Battle: Ultra Galaxy]]'' (2009), [[Ultraman Neos (character)|Neos]] and [[Ultraseven 21]] fight along the other [[Space Garrison|M-78 Ultra Warriors]] against the evil [[Ultraman Belial]].

+

*''[[Mega Monster Battle: Ultra Galaxy]]'' (2009), [[Ultraman Neos (character)|Neos]] and [[Ultraseven 21]] fight along the other [[Space Garrison| Ultra Warriors]] against the evil [[Ultraman Belial]].

 

[[File:Ultraman Neos|thumb|330x330px|'''Ultraman Neos on TOKU''']]

 

[[File:Ultraman Neos|thumb|330x330px|'''Ultraman Neos on TOKU''']]

 
 
 

==Notes==

 

==Notes==

 

*Ultraman Neos is the 1st series who has toys of the series produced before its actual run.

 

*Ultraman Neos is the 1st series who has toys of the series produced before its actual run.

−

*Ultraman Neos soundtracks is similar with ''[[Heisei Ultraseven]]'' soundtracks.

+

*Ultraman Neos soundtracks is similar with ''[[Heisei ]]'' soundtracks.

 
 
−

== References ==

+

==References==

−

<references />

+

<references/>

 

{{Shows and Films}}

 

{{Shows and Films}}

 

[[id:Ultraman Neos (seri)]]

 

[[id:Ultraman Neos (seri)]]
---
Revision as of 20:02, 22 April 2019
Ultraman Neos (ウルトラマンネオス Urutoraman Neosu) is a Japanese tokusatsu show, being the 15th show in the Ultra Series produced by Tsuburaya Productions. Ultraman Neos was initially intended as a TV series but the project was shelved. Years later, Tsuburaya turned the concept into a 12-episode direct-to-video series. In spite of the appearance of similar designs and a cameo by Zoffy, the series is set in an alternate universe.
Toku premiered the series in the United States on May, 1, 2017.[1]
Plot
In the first decade of the 21st Century on Earth, the rising of the population results in low quality of life, as well the increasing number of ESP incidents and alien invasions. At Nebula M78, the information service of the Space Defense Force watches these phenomena and throughout the Space Security Service, a ramification of the group sent a warrior to Earth named Ultraman Neos and his commander Ultraseven 21 (ウルトラセブン21 Urutoraseben Tsū Wan). Upon arriving on Earth, Ultraman Neos secretly merges with Genki Kagura to help HEART (Hi-tech Earth Alert and Rescue Team) fight monsters both of terrestrial and extraterrestrial origin.
The general of the troop, even knowing the uncommon situation in the area, found it inadequate to take the veteran Seven 21 of his rank and asked for support of the Warrior Command Group of the Ultra War Unit. The organization selected a young warrior of the elite troop, Ultraman Neos, with Ultraseven 21 giving him support when necessary.
HEART Members
Main article: HEART (Hi-tech Earth Alert and Rescue Team)
HEART, also spelt as HRT, stands for Hi-tech Earth Alert and Rescue Team.
Cast
Genki Kagura (神楽元気

Kagura Genki

): Jun Takatsuki (高槻純

Takatsuki Jun

)

Gonpachi Minato

(港権八

Minato Gonpachi

):

Kyusaku Shimada

(嶋田久作

Shimada Kyusaku

)

Hironobu Uematsu

(植松弘展

Uematsu Hironobu

): Shigeki Kagemaru (影丸茂樹

Kagemaru Shigeki

)

Takayoshi Hino

(日野隆義

Hino Takayoshi

):

Taketora Morita

(森田猛虎

Morita Taketora

)

Nana Hayami

(速水奈々

Hayami Nana

):

Atsuko Rukawa

(瑠川あつこ

Rukawa Atsuko

)

Ayumi Kitabayashi

(北林歩

Kitabayashi Ayumi

):

Mika Sakamoto

(坂本三佳

Sakamoto Mika

)

Yoko Fujiwara

(藤原陽子

Yoko Fujiwara

):

Satomi Murakami

(村上聡美

Murakami Satomi

)

Kisaragi

(如月

Kisaragi

):

Sakae Kimura

(木村栄

Kimura Sakae

)

Katagiri

(片桐

Katagiri

):

Wataru Shihodo

(四方堂亘

Shihodo Wataru

)
Ultraseven 21 (voice) (ウルトラセブン21

Urutorasebun 21

): Isshin Chiba (千葉一伸

Chiba Isshin

)
Narration: Ikuya Sawaki (沢木郁也

Sawaki Ikuya

)
Media
Cameo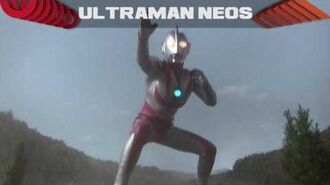 Notes
Ultraman Neos is the 1st series who has toys of the series produced before its actual run.
Ultraman Neos soundtracks is similar with

Heisei Ultra Seven

soundtracks.
References
Template:Shows and Films