Ultraman Max Arrives! (ウルトラマンマックス誕生! Urutoraman Makkusu Tanjō!) is the first episode of Ultraman Max.
Synopsis
A volcano erupts, and the area is evacuated. Nobody except one boy knows a monster is hiding in the mountainside. Kaito, a volunteer, accidentally gains a new power, while another threat is discovered. Who is the giant?
Plot
At a volcanic mountain in Japan, a young boy named Shota sees a monster in a cave before a sudden eruption occurs, however, nobody believes his reports. Kaito is one of the volunteers helping the evacuees from the area.
Shota brings a camera to obtain a picture of the monster, but Grangon bursts out of the mountainside, terrifying him. While everyone else is being evacuated, Kaito hears of the boy's plight and goes to rescue him in a van.
The UDF sends out DASH to combat Grangon. They engage, but are distracted by seeing Kaito on the ground, who had just managed to rescue Shota. He flees in the van, with Grangon breathing fireballs in pursuit. DASH manages to freeze the monster, breaking it into pieces.
At the DASH base, Professor Yoshinaga explains her theory: that kaiju are humanity's natural enemies, due to their harmful effect on nature. Just then, Lagoras appears. DASH attacks, only to discover that Grangon is still alive, and Lagoras is heading for his location.
The two monsters battle, while Kaito helps people evacuate. In the process, the DASH planes are downed. Mizuki's, hit by Grangon's tail, lands nearby. Kaito takes over, but is soon shot down by Lagoras. He is saved by a Giant of Light and he gave Kaito a transform device and then they merged.
Lagoras and Grangon continue their fight until an Ultra appears. He destroys both kaiju. Later, Kaito is admitted into DASH, and gives a name to the Giant of Light who saved him: Ultraman Max.
Cast
Appearances
Ultras
Kaiju
Home Media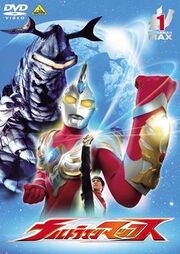 Ultraman Max Volume 1 features episodes 1-2.
Trivia
This episode was later featured in Ultraman Retsuden episode 15 "Birth of Ultraman Max! Defeat the 2 Monsters!!"
The episode was premiered on American television by TOKU on February 27, 2017