"Strongest! Fastest!! Max Power! Max Speed!!"

―Series tagline
Ultraman Max (ウルトラマンマックス Urutoraman Makkusu) is the 19th installment in the Ultra Series, and started airing on 2 July 2005. After the darker series Ultraman Nexus, Tsuburaya featured a more traditional formula with weekly monsters and a lighter theme.
On January 27, 2017, the US television channel TOKU announced that the series will be broadcast in the United States on its channel beginning February 27, 2017, making it the fifth Ultra Series to air in the United States after Ultraman, Ultraseven, Ultraman: Towards the Future, and Ultraman Tiga. [1] [2] [3] [4]
Production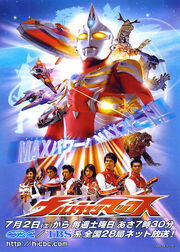 Many actors (and characters) from previous shows make cameos, most notably professor Yukari Yoshinaga and chief Kenzo Tomioka, who are played by the actors Hiroko Sakurai (Akiko Fuji) and Susumu Kurobe (Shin Hayata) from the original Ultraman. One episode (#29) revolves around the filming of the 1964 program Ultra Q, the first entry in the Ultra Series. Two actors from that show appear as themselves.
Much like Ultraman: Towards the Future, Max has a strong environmental message: most monster and alien attacks have something to do with the environment.
Although certain monsters from the previous Ultra Series appear here in this series, the characters do not actually recognize them. This series does not have any direct continuity to any of the other Ultra Series (except episode 24: "The Untargeted Town" which seems to be a sequel to the Ultraseven series episode 8: "The Targeted Town").
Just like his predecessors, Ultraman Max is from Nebula M78 and is supported by DASH (Defense Action Squad Heroes), a branch of the UDF (United Defense Federation). His human host is Touma Kaito. He bears many resemblances to Ultraseven, such as his armor and his eye-slugger. His superior, Ultraman Xenon, appears in episodes 13 and 39.
This series is notable for its attack team containing both an android member, and, for the first time, a foreigner. The latter would carry on to later series such as Ultraman Mebius.
Characters
Ultras
Others
Kaiju/Seijin
Super Battle Special
After the broadcast of Ultraman Max, an eight minute special titled Super Battle! Ultraman Max (スーパーバトルだ!ウルトラマンマックス Sūpā Batoru da! Urutoraman Makkusu) was released on DVD. This special was a five minute clip show giving a review of Ultraman Max's backstory and primary attacks up until Ultraman Xenon gives him the Max Galaxy. After the clip show, the monster Red King attacks Max with Zetton shortly joining in. The special ends with Max defeating both of them.
Cast
Music
Opening Theme
Ending Theme
Insert Themes
2017 English Dub
On January 27, 2017, the television channel TOKU announced that the series will be broadcast in the United States on its channel beginning February 27, 2017.[5] Days later, it is confirmed that the series will be dubbed in English. [6] The series was broadcast Monday through Friday at 7pm ET with replays every day during the morning or afternoon and was finalized on March 24, 2017.
| Ultraman on TOKU | Premieres are coming to TOKU in February!-0 |
| --- | --- |
Home Media
Trivia
References
External Links
Community content is available under
CC-BY-SA
unless otherwise noted.