Bandai
Ultra Hero Series 2005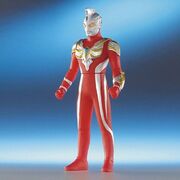 Ultraman Max (2005)

Release Date: July 9, 2005
Price: 700 yen
Materials: PVC
JAN/ISBN: 4543112329516
Ultraman Max is first released as an Ultra Hero Series 2005 figure. Like most Ultramen figures, he sports 3 points of articulation on the shoulders & waist, and he was primarily casted in red soft vinyl plastic, and sports silver, gold & some yellow & blue paint operations. He also comes with a collectible data card.
The figure was initially released in a different packaging, but in limited numbers, to commemorate the series' premiere.
Ultraman Max ~Max Galaxy ver~ (2005)

Release Date: October 29, 2005
Price: 700 yen
Materials: PVC
JAN/ISBN: 4543112349125
A retool of the Ultra Hero Series Ultraman Max figure, he features a new right hand, which includes the Max Galaxy device.
Ultra Hero Series (2009)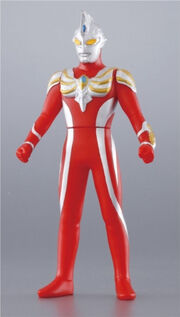 Ultraman Max (2009)

Release Date: November 28, 2009
ID Number: 34
Price: 800 yen
Materials: PVC
JAN/ISBN: 4543112593979
Release as part of the Ultra Hero Series Renewal lineup, this Ultraman Max is a new mold with similar proportions to the original UHS2005 toy.
HG Series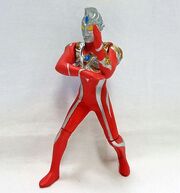 The Strongest! The Fastest! Ultraman Max Arrives! (Part 45, 2005)

Release Date: July 31, 2005
Price: 200 yen
JAN/ISBN: 4543112338679
Materials: PVC
Released as part of the 45th lineup of the mainline HG Series Ultraman line, this Ultraman Max figure is a small capsule figure. He was molded in his Maxium Cannon stance.
A New Power (Part 46, 2005)

Release Date: October 2005
Price: 200 yen
JAN/ISBN: 4543112347244
Materials: PVC
This Ultraman Max figure is another new mold, this time with a molded Max Galaxy on his right arm.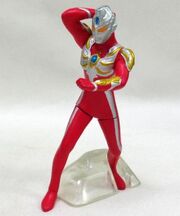 The Untargeted City (Part 47, 2006)

Release Date: February 14, 2005
Price: 200 yen
JAN/ISBN: 4543112383945
Materials: PVC
Another Ultraman Max figure is released as part of this assortment, now molded in his "Preparing to launch his Maxium Sword" stature.
Ultra-Act
Ultraman Max (2012)

Release Date: August 31, 2012
Accessories: 2 pairs of hands, 1 right hand (for Maxium Sword), Maxium Sword, Max Galaxy, Effect parts (Galaxy Sword, Maxium Cannon), Color Timer, back piece
Ultra Hero 500
NOTE: All Ultra Hero 500 figures are compatible with the DX Ginga Spark.
Ultraman Max (2013)

Release Date: September 7, 2013
ID Number: 18
Price: 800 yen
JAN/ISBN:

4543112804273 (2013)
4549660476306 (2020)

Materials: PVC
A smaller version of the Ultraman Max figure, the toy features a Live Sign stamp under his left foot, which can be scanned with the Ginga Spark, and it unlocks one of the spark's sound effects: "Ultlive! Ultraman Max!". If the trigger is pulled to reveal Ginga's face, Ultraman's Transformation sound effect is played. If scanned with the DX Dark Spark, it does not open the Device's face hatch.
Ultraman Max is later re-released twice in 2016 and 2020 under the "Ultra Hero Series" re-branding, lacking the live sign. 
The 10 Ultra Warriors Special Set 2 (2016)

Release Date: July 2016
JAN/ISBN: 4549660044741
Materials: PVC
A silver redeco of the original Ultra Hero 500 Ultraman Max toy, he comes with a similarly decoed Ultra Mebius, Ultraman Zero, Ultraman Ginga, and Ultraman Victory figures. Unlike the previous toys, this Ultraman Max does not come with a Live Sign to scan with.
Community content is available under
CC-BY-SA
unless otherwise noted.