The manga version of Ultraman Leo. Like the other Ultras in the Story 0 manga, he was born human, but his Ultra powers were inherited as were his brothers.
History
Ultraman Story 0
The prince of the Kingdom of L77, Leo and his younger twin brother Astra were raised as warrior princes under the tutelage of Drew at the order of their father. They spent their time with hunts and training while visiting their caring but frail mother.
One day the young princes were brought before their father at his throne for a ceremony to hand them their birthright in the form of rings. However, their father felt they were not ready for them. Before they could truly protest, a situation arose. The princes gathered with their army and their teacher. But when they asked about their father, who should be with them, their teacher pointed to a tower. There, they witnessed their father transform into a red giant.

Profile
Transformation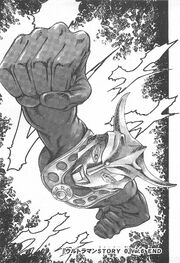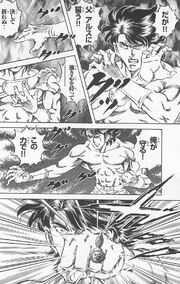 Leo uses the ring that he inherited from his father to which he its namesake. He uses the same movements that he does in the TV series and the same call. When he first tried to transform, he was almost overcome by the power of Ultra and his later transformation seems to emphasis focusing his power.
Techniques
Leo Kick: Leo's signature move, a powerful jumps kick from high up, it is highly destructive, able to take out a legion of Alien Magmas at once.
Leo Tornado: A spin kick where Leo creates a tornado with winds powerful enough to tear apart a monster.
Martial Arts: Leo is a trained warrior, while not as competent as his father he is still a skilled combatant.
Gallery
Trivia
Unlike the TV series, Leo and Astra's parents are seen, Ars and his wife.
Unlike the other Ultras in the manga, Leo did not gain his powers from the Plasma Sun, instead he gained them from his father who was showered in the artificial sun's light. This would make him and his brother the first instances of humans with Ultra Genes.