"Ganbare..!"

―The children's quote when they meet Ultraman.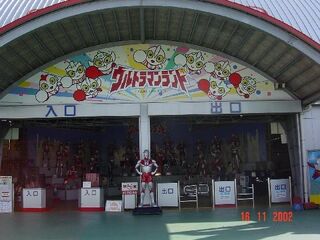 Ultraman Land was a theme park for Ultraman fans. It was located in Sunshine City, Japan.
On February 14, 2013, Tsuburaya announced that the amusement park would shut down its operations permanently in September. On its last two days, the park opened two hours early, from 8:00 AM until 6:30 PM The park held a grand closing ceremony for the fans on its final day, at 7:45 PM. [1]
Attractions
Rides
Other attractions
Statues of Ultras
Statues of Kaiju
Fighting show
Earth defense force base room
Earth defense force vehicles
Baby boom-boom car
Taking photos/meeting Ultras
Souvenir Shop
Gallery
See also
Ultraman Foundation: The leader and the branch office of Ultraman Land
References