This is the merchandise page for Ultraman Joneus.
Popy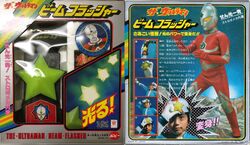 Beam Flasher (1979)

Release date: 1979
JAN/ISBN: TBA
Materials: ABS, PVC, LED
Bandai
Ultra Hero Series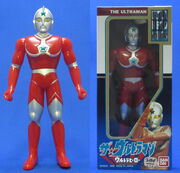 The Ultraman[sic] (1988)

Release date: 1988
ID Number: 12
JAN/ISBN: TBA
Materials: ATBC-PVC
Released by Bandai as part of the Ultra Hero Series line, Ultraman Joneus (named as The Ultraman in the packaging) is a 6-inch PVC figure. Molded in red ATBC-PVC plastic, Joneus features mainly silver and some green (color timer) and some gold (eyes) paint applications.
Ironically, this figure is out of scale compared to his on-screen portrayal, as he is 70 m ~ 120 m.

The Ultraman[sic] (1991)

Release date: 1991
ID Number: 12
JAN/ISBN: 4902425333618
Materials: ATBC-PVC
The Ultraman Joneus figure is once again reissued for the 90s' Ultra Hero Series lineup, with new packaging and a data card with a pre-punched hole. The figure is completely unchanged from the previous release.
ULTRA-ACT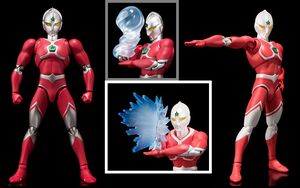 Ultraman Joneus (2014)
Ultraman Joneus ~Animation Colors~ (2014)

Release Date: 26 October, 2014
Accessories: 1 pair of knife-hands, 1 pair of Astro Beam-finger hands, 1 pair of splayed hands, Planium Ray effect parts (Type A & B), 2 additional color timers
A Tamashii webshop Exclusive, ULTRA-ACT Ultraman Joneus is a highly-poseable action figure with over 20 points of articulation and is released in two different color versions: One based on his live-action suit and the other his appearance in the TV Anime. While both figures are identical detail-wise, the live-action version features primarily silver paint details to evoke his suit, and the Anime version features pearl-ish while. Apart from the hand parts, Ultraman Joneus comes with two types of Planium Ray effects.
Both figures are released as a Tamashii Webshop exclusive, and it can be ordered between June 24, 2013 from 16:00JST until August 4, 2013 at 23:00JST, and the product will be shipped this October 26, 2015.
Gashapon Ultra Hero 500 & Ultra Monster 500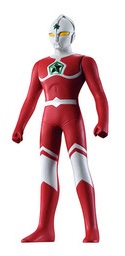 Ultraman Joneus (Anime ver.) (2015)

Release date: December 2015
Price: 500 yen
JAN/ISBN: 4543112972316
Materials: PVC
Released as part of the second and last wave of Gashapon Ultra Hero 500 & Ultra Monster 500 line, this Ultraman Joneus is a small figure with a live sign stamped underneath his left foot. Joneus is painted in his animated appearance and had a number of paint omissions on the back.
Though the sign is incompatible with the DX Ginga Spark, it can be scanned with the DX X Devizer. If scanned, the device plays the activation sounds and plus some voice clips: "analyzing Ultraman...", "Joneus: analysis completed!" "Is Joneus an ally?" and lastly "Correct" with Joneus' grunt being played once.
Community content is available under
CC-BY-SA
unless otherwise noted.