The Great Decisive Battle! The Super 8 Ultra Brothers version of Ultraman Jack (ウルトラマンジャック Urutoraman Jakku) is an Ultra who was born from Hideki Goh's will to save humanity.
History
When the other Ultras were having difficulty fighting Giga Khimaira, Goh and his brothers change into their Ultra forms. The four original Ultra Brothers: Ultraman, Ultraseven, Ultraman Jack and Ultraman Ace revived the defeated Mebius. Later they all joined Tiga, Dyna and Gaia against the Giga Khimaira. They defeated it with the Ultra Superior attack. However, Black Silhouettes appeared and combined into the Giant Black Silhouette, telling them he would always be alive if there was still darkness in humanity's hearts. Mankind's determination allowed the eight Ultras to achieve their Glitter forms, and Giant Black Silhouette was soon defeated by the eight Ultras' Superior Myth Blaster.
Later, Goh and his wife would ride their plane and travel with everyone to Nebula M78.
Profile
Statistics
Home World: Planet Earth (Superior 8 Universe)
Height: 40 m
Weight: 35,000 t
Time Limit: None demonstrated
Body Features
Color Timer: The standard Color Timer, but unlike its Showa Era counterpart it showed no sign of a time limit.
Eyes: Ultraman Jack can see beyond the visible spectrum, perhaps the entire spectrum.
Transformation
Will Power: Hideki Goh waves or holds one of his arms above his body and he transforms into Ultraman Jack.
Forms
Ultraman Jack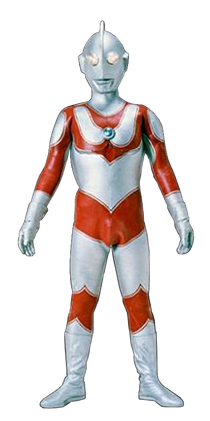 Techniques

Special
Specium Ray (スペシウム光線

Supeshiumu Kōsen

): When Ultraman Jack puts his arms in a plus (+) sign, with his right arm vertical and his left one horizontal, he can fire a powerful beam from his right vertical hand that can destroy monsters in one hit. It's exactly like Ultraman's Specium Ray.
Hand Slash: An energy slash from his right hand.
Combination
Ultra Palifie (ウルトラパリフィー

Urutora Parifī

): Ultraman along with Seven, Ace, and Jack can fire a blue beam from their right arm, used to revive Mebius.
Ultra Grand Wall (ウルトラグランドウォール

Urutora Gurando Uōru

): A combination shield that can reflect enemy attacks.
Excellent Reflection (エクセレント・リフレクション

Ekuserento Rifurekushon

): An energy wave used to repair the damages done by Giga Khimaira.
Ultra Superior (ウルトラスペリオル

Urutora Superioru

): Mebius and the other Super Ultra Brothers fire their respective finisher attacks.
Illusionic Slugger (イリュージョニック・スラッガー

Iryūjonikku Suraggā

): When a blue variant of the Ultra Superior is fired at the Eye Slugger, it can can multiply into many copies.
Glitter Version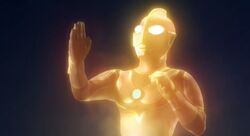 Glitter Version (グリッターバージョン Gurittā Bājon) was born from mankind's hope to defeat the Giant Black Silhouette.
Techniques

Special
Glitter Specium Ray (グリッタースペシウム光線

Gurittā Supeshiumu Kōsen

): An upgraded version of his signature finisher.
Combination
Superior Myth Flasher (スペリオルマイスフラッシャー

Superioru Maisu Furasshā

): A combination attack where the Superior Ultra Brothers fire their respective finisher attacks.
Gallery
Trivia
Like all Ultras in this universe, Ultraman Jack has a green Color Timer, the exception is Mebius whom is from the Showa Universe.