Dreamworks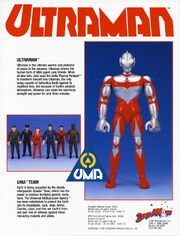 Poseable Ultraman Figure (canceled)
Revealed from the first ToyFair 1991 insert, a poseable & less muscular figure of Ultraman Great is intended to be produced by Dreamworks, but was canceled.
​
Ultraman, Defender of the Universe (1990)

Release Date: ??? 1990
Materials: PVC/ABS
Includes: Jack Shindo figure, Ultraman Sticker
An 8-inch figure of Ultraman Great is produced by Dreamworks, and he sports articulation on the arms & head. He also comes with a Jack Shindo mini-figure, and a collectible sticker.
Bandai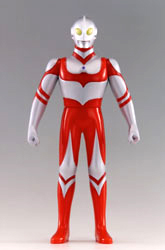 Ultraman Great (1990/2000/2004)

Release Date: 1990 (Vintage)
ID Number: 14 (Vintage), 13 (Reissue)
Price: 600 yen (Vintage), 700 yen (Reissue)
Materials: ATBC-PVC
JAN/ISBN: 4902425333632 (Vintage), 4902425768076 (Reissue)
In Japan, Ultraman Great is released as an Ultra Hero Series figure. Like most Ultramen figures, he sports 3 points of articulation on the shoulders & waist, and he was primarily casted in red soft vinyl plastic, and unlike most of the Ultras, Great's silver paint operations is actually a mix between white & silver paints, mostly to evoke his spandex suit.
In 2000, Great was reissued with a new packaging, with some changes includes replacing the white-colored eyes with light yellow paint. He also comes with a collectible data card, and the picture depicts him fighting with Ryugulo.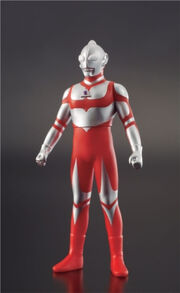 Ultraman Great (2009)

Release Date: October 24, 2009
ID Number: 14
Price: 800 yen
Materials: PVC
JAN/ISBN: 4543112573339
Release as part of the Ultra Hero Series Renewal lineup, this new mold of Great features show-accurate proportions compared to his previous UHS figure.
This release was discontinued and replaced by Ultraman Nexus Junis Blue in 2012, although he was still available in some department stores from Asia.
Community content is available under
CC-BY-SA
unless otherwise noted.