Ultraman Cosmos (ウルトラマンコスモス Urutoraman Kosumosu) is a Japanese tokusatsu TV show being the 16th show in the Ultraman Series. Produced by Tsuburaya Productions, Ultraman Cosmos aired from July 7, 2001 to September 28, 2002, with a total of 65 episodes, which currently makes it the longest running Ultra Show to date. Ultraman Cosmos was also produced coinciding with the 35th anniversary of the Ultraman Series.
Synopsis
Ultraman Cosmos, a blue giant of kindness from space, arrives on Earth chasing down the Chaos Header, who infects life forms. Cosmos bonds with Musashi Haruno of EYES, who makes it his mission to protect the Earth and the life on it from Chaos Header and other malicious entities.
Characters
Captain Harumitsu Hiura

Shinobu Mizuki

Ayano Morimoto

Koji Doigaki
Ultras
Kaiju
Cast
Musashi Haruno (春野ムサシ

Haruno Musashi

): Taiyo Sugiura (杉浦 太陽

Sugiura Taiyō

)

Musashi (Child):

Kounosuke Tokai

(東海孝之助

Tōkai Kōnosuke

)

Captain Harumitsu Hiura

(ヒウラ ハルミツ 隊長

Hiura Harumitsu Taichō

):

Daisuke Shima

(嶋 大輔

Shima Daisuke

)

Shinobu Mizuki

(ミズキ シノブ

Shinobu Mizuki

):

Kaori Sakagami

(坂上 香織

Sakagami Kaori

)
Keisuke Fubuki (フブキ ケイスケ

Fubuki Keisuke

):

Hidekazu Ichinose

(市瀬 秀和

Ichinose Hidekazu

)

Koji Doigaki

(ドイガキ コウジ

Doigaki Koji

):

Koichi Sudo

(須藤公一

Sudō Kōichi

)

Ayano Morimoto

(モリモト アヤノ

Morimoto Ayano

): Mayuka Suzuki (鈴木繭菓

Suzuki Mayuka

)
Ultraman Cosmos (ウルトラマンコスモス

Urutoraman Kosumosu

Voice): Hiroyuki Sato (佐藤浩之

Satō Hiroyuki

)
Chaos Header (カオスヘッダー

Kaosu Heddā

): Koji Haramaki (服巻浩司

Haramaki Koji

)
Music
Opening Theme
Spirit

Lyrics:

Goro Matsui

Composition:

KATSUMI

Arrangement:

Takao Konishi

Artist: Project DMM
Ending Themes
Insert Themes
10th Anniversary Release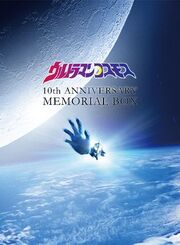 In 2011, Tsuburaya productions has released the entire TV Series in DVD Box set, under the title "Ultraman Cosmos: 10th Anniversary Memorial Box", features all 65 episodes plus three newly-edited episodes. Comes with a 32-page description.

Arrest of Taiyo Sugiura
In June 2002, Cosmos was taken off of television for several weeks (following the broadcast of the 49th episode) when lead actor Taiyo Sugiura was questioned in an assault and extortion case. The feature film Ultraman M78 Theater Love & Peace and the direct-to-video Ultraman series Ultraman Neos were broadcast during this period. When the case against Sugiura was dropped for lack of evidence, Cosmos was put back on the air.[1] TBS and Tsuburaya ultimately pulled five episodes (50, 52, 54, 56, and 58) from broadcast to make up for time lost, and these episodes were later released on DVD.
References