Ultraman Boy (ウルトラマンボーイ Urutoraman Bōi) is an Ultra from the Land of Light.
History
Ultraman Boy's Ultra Coliseum
Ultraman Boy stars in this series where he learns about past Ultra Warriors, Kaiju, and defense teams, meeting and talking to various past Ultras about their experiences.
Mega Monster Battle: Ultra Galaxy Legends The Movie
Ultraman Boy has three brief cameos in this movie. He is first seen fighting and losing to a rookie Ultrawoman while training in the Ultra Colosseum. Later, when Ultraman Belial invaded the Land of Light, Ultraman Boy witnessed Belial's attack, and tried to hide, shouting "Oh, this is terrible!" in fear. Afterwards, he was presumably frozen along with every other Ultra (excluding Ultraman, Ultraseven, Ultraman Mebius, Ultraman Leo, Astra, Ultraman King, and Ultraman Zero) when Ultraman Belial stole the Plasma Spark. During the film's resolution, he is seen standing between Ultraseven 21 and Ultraman Neos listening to Ultraman King's speech. Mega Monster Battle: Ultra Galaxy Legends The Movie
Ultra Galaxy Fight: The Destined Crossroad
With the looming threat of The Kingdom becoming larger, Boy, alongside Ultraman Zearth and Ultraman Nice, trained at the Ultra Colosseum together. Nice and Zearth practiced but soon became agitated at each other after Zearth messed up their routine, to the point where they punched each other in the face. Ultrawoman Grigio came to heal the two before the three introduced themselves to Grigio.

Profile

Stats
Height: 24 m and growing
Weight: 6,000 t and growing
Age: 2,000 years old (Ultra equivalent of an Elementary School Student)[3]
Home World: Land of Light, Nebula M78
Maximum Flight Speed: Not yet learned
Favorite Subject: Ultra Science
Disliked Subject: Physical Education
Likes: The Ultra Heroes, Yullian (Crush)
Goals: To become a member of the Inter Galactic Defense Force (Called a Space Ranger), learn how to fly.
Other Media
Ultraman Galaxy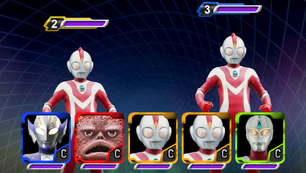 Ultraman Boy reappeared in the puzzle role-playing game for mobile devices, Ultraman Galaxy. He is a C ranked card, which means he is quite common.

Gallery
Ultraman Boy's Ultra Coliseum
Mega Monster Battle: Ultra Galaxy Legends The Movie
Miscellaneous
Trivia
The original Ultraman Boy suit was reused for his appearance in the Ultra Galaxy movie.
Ultraman Boy, besides being the youngest Ultra known (until the appearance of an Ultra Baby in the Ultra Galaxy movie) is the only Ultra known to not be able to fly due to his age.