Ultraman (ウルトラマン Urutoraman) exists in The World Where The Ultra Flare Occurred as a counterpart to the original.[1]
History
Ultraman X The Movie: Here He Comes! Our Ultraman
The legend of Ultraman was pretty much heard upon by Alien Fanton Gourman, who recalls the giant's fight with a group of Baltans. In an attempt to summon him, Gourman replicated the Beta Capsule, only for it to backfire as a massive explosion. Later when Yuuto Tamaki arrived at Xio's headquarters, Gourman would create the original Ultraman's Cyber Card through his memory of the giant, alongside those of Ultraman Tiga.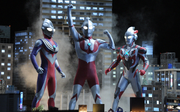 After X and Tiga had arrived, Ultraman, being summoned by the blue stone, joined them against the threat of Zaigorg, Gorg Antlar, and Gorg Fire Golza. As Tiga attained Sky Type to battle Gorg Antlar, Ultraman remained with X to double-up on Zaigorg. His attention was later drawn to Gorg Fire Golza. The Golza appeared to have to upper hand in the battle after using its rolling attack. But, after the Golza was distracted by Xio assault, Ultraman got up and defeated Gorg Fire Golza by using an Ultra Slash as a shield against the Ultrasonic Ray. He then threw the Slash at him to stun him and finished it off with the Spacium Beam.
After Zaigorg's presumed death, Ultraman reunited with X and Tiga, only to be grabbed by Zaigorg's chest tendrils. It drained his energy very quickly and was rendered helpless. But he and Tiga lent their energy to the hero, granting X the Beta Spark Armor to finish off Zaigorg. Now the battle was over, Ultraman nods to X as he left the Earth. Ultraman X The Movie: Here He Comes! Our Ultraman
Profile
Stats
Abilities
Travel Sphere: Ultraman can encase himself in a red energy sphere for travel.
Ultra Barrier (ウルトラバリヤー

Urutora Bariyā

): Ultraman draws a rectangular shield in the air which is energized by his fingers to deflect/reflect any type of attack.
Techniques
Special
Spacium Beam (スペシウム光線

Supeshiumu Kōsen

): Ultraman's finisher attack, Ultraman puts his arms in a plus "+" sign, with his right arm vertical and his left one horizontal, he can fire a powerful beam from his right vertical hand that can destroy monsters in one hit.
Ultra Slash (ウルトラスラッシュ

Urutora Surasshu

): Ultraman can form a buzzsaw-like energy disc in his hand and toss it at foes, slicing through monsters with ease. This can also be used as a shield to block attacks.
Gallery
Ultraman X The Movie: Here He Comes! Our Ultraman
Trivia
A new suit was constructed for this movie, based on the Type C suit. The mask was digitally replicated through 3D printing.[3]
The true identity of this Ultraman was initially ambiguous during his appearance in the movie, as a few believed that he was the original character from the World of the Land of Light. A 2017 magazine, however, confirms him to be an alternate universe character in the same way as Ultraman Tiga.[1]
His relation to the blue stone of Baradhi is a reference to the an Ultraman-like statue referred to as the "god of Noa" by the citizens of Baradhi in episode 7 of the eponymous series. Additionally, according to the Blu-ray of the movie, Ultraman was meant to fight against Antlar as a further homage to their previous battle, but director Kiyotaka Taguchi switched the opponent with Gorg Fire Golza as a homage to the Japanese movie Sanjuro.
Assuming that Gourman remembered the giant transforming with a Beta Capsule, it is presumed that this Ultraman also took a human host and/or form to fight on alien planets.
During Ultraman's arrival, Gourman and Daichi paraphrased the last part of Ultraman no Uta's lyrics.
References