This may not be the article you are looking for. For other uses of the word Ultraman, see Ultraman.
The version of Ultraman from the 2003 manga series Ultraman THE FIRST.
History
Ultraman THE FIRST
Like in the original series, Ultraman came to Earth in pursuit of Bemlar, crashing into Shin Hayata's aircraft. As a result, Ultraman fused with Hayata and gave him the power to transform into him via the Beta Capsule.
At the end of the series, Ultraman separated from Shin and joined with Zoffy, who gave Shin and Akiko the Life Forces he had. Zoffy and Ultraman returned to the Land of Light so he could be healed of his injuries.

Profile
Stats
Height: 40 m
Weight: 35,000 t (Earth gravitation)
Age: 20,000 years old
Home World: Land of Light, Nebula M78
Maximum Flight Speed: Mach 5
Maximum Running Speed: 450 km/h (280 mph)
Maximum Underwater Speed: 200 knots (230 mph)
Maximum Underground Speed: Mach 3
Maximum Jumping Height: 800 m (2,600 ft)
Arm Strength: Presumably capable of lifting a 100,000-ton tanker and bench-pressing 200,000 tonnes
Body Features
Color Timer: The standard Color Timer.
Eyes: Ultraman can see beyond the visible spectrum, perhaps the entire spectrum.
Ultra Armor: Unlike the original Ultraman, this one does not seem to be immune to electricity, though he did show resistance to beams and survived being near a nuclear explosion.
Transformation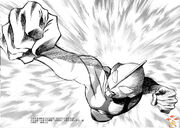 This Ultraman has a rise similar to the original's, although it was only seen once. When Hayata used the Beta Capsule he was wrapped in light which begins to form Ultraman's body.
Techniques
NOTE: This Ultraman presumably has all the same techniques as the original. The techniques he has demonstrated are...
Spacium Beam: Like his original counterpart, Ultraman can fire the Spacium Beam. Unlike the original, which sometimes only left a deadly burn, this version completely obliterates the target.
Ultra Chop: A powerful chop, used to break Alient Baltan's claw.
Ultra Kick: A powerful kick, used against Greenmons.
Fluoroscope Ray: Beam from his eyes, used to reveal Alien Baltan's ship.
Gallery
Trivia
Unlike the original series, when Shin transformed, he was in control of Ultraman's body.
This Ultraman is the first time two Ultras assimilated with each other, it is also the first time an Ultra merges with a being who is not even remotely human.