"Are you tough enough?"

―Miniseries tagline
Ultra Galaxy Fight: The Destined Crossroad (ウルトラギャラクシーファイト 運命の衝突 Urutora Gyarakushī Faito Unmei no Shōtotsu) is an Ultra Fight miniseries and the third Ultra Galaxy Fight installment. Its release date is planned to be the year 2022.[1][2]
Production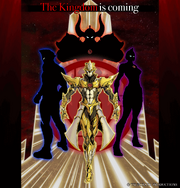 The miniseries was hinted by Tsuburaya Productions' Twitter account on the day of The Absolute Conspiracy's final episode was aired on YouTube, with said post accompanied by a poster featuring Absolute Tartarus and three other Absolutian silhouettes.[3] At that time, writer Junichiro Ashiki confirmed his participation in the-yet unnamed sequel.[4]
In an online event hosted by Tsuburaya Productions in their YouTube channel, the miniseries' first trailer, new characters and release date was announced by the director, Koichi Sakamoto.[1][2] According to an interview with Tatsuomi Hamada, producer Daisuke Kanemitsu and Aya Satsuki, the total of appearing characters are expected to be 100, including the characters' Type Change themselves.[5]
Continuity
The miniseries acts as a sequel to Ultra Galaxy Fight: The Absolute Conspiracy, following up events after the third chapter with Yullian being held captive by Tartarus and his accomplices.[1][2]
Synopsis
Ultra Galaxy Fight: The Destined Crossroad is the third installment of the Ultra Galaxy Fight series, continued from the previous series Ultra Galaxy Fight: The Absolute Conspiracy which had a shocking ending.
Ultra Heroes vs Absolutian, the destined battle is about to reshape the galaxy!
Characters
Ultras and Other Heroes
Kaiju
Cast
Voice Actors
Staff
Gallery
Videos
External Links
References