Ultra Capsule Holder (ウルトラカプセルホルダー Urutora Kapuseru Horudā) is a container used by Riku Asakura to keep the Ultra Capsules.
Usage
The opening mechanism goes by pulling the cover downwards and vice versa in the closing sequence. The Ultra Capsules can be stored by sliding them downwards into the slot provided.
Gallery
Trivia
Despite being able to hold only 4 Capsules, Riku/Geed is still able to change to either of his forms, which would require at least 9 slots and still have enough space to store empty Capsules, and the other Capsules he has collected.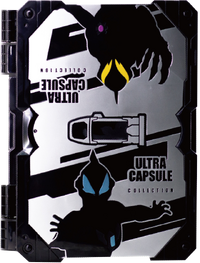 An Ultra Capsule Collection Box was produced by Bandai China. It can hold up to 24 Capsules.[1]
References