"The silver meteor...descends"

―Movie tagline
ULTRAMAN (Urutoraman) is a 2004 tokusatsu superhero film. It is part of the Ultraman Series' Ultra N Project, and features an Ultraman character code named "Ultraman the Next". The movie, produced by Tsuburaya Productions as a prequel to Ultraman Nexus. The movie received its theatrical release in Japan on December 18, 2004, distributed by Shochiku.
Synopsis
First Lieutenant Shunichi Maki of the Japan Air Self-Defense Force is a prestigious F-15 Eagle jet pilot (or "driver" as he is called in the film). A lifelong fan of flying since he was a child, being a pilot is his ultimate dream. Unfortunately, his duties distance himself from his wife, Yoko, who always ends up being neglected, and his son, Tsugumu Maki, who has a congenital blood disease and has a high risk of dying at a young age.
Maki decides to quit the Air Force to devote more time to his family and to spend whatever is left for his son. He takes a part-time job as a commercial tour guide run by a kindly group of people who allow him time to work and to also take care of his family.
However, prior to quitting, Maki and his flight partner Yamashima are alerted to a strange red light streaking towards Japan, and Maki's plane collides with the red light. However, he has suffered no ill effects other than brief flashes of scenes playing out in his mind. He later discovers that the images in his mind are due to telepathic messages from the strange being in the light.
Appearances
Ultras
Kaiju
Cast
Shunichi Maki (真木 舜一

Maki Shunichi

)/Ultraman the Next (ウルトラマン・ザ・ネクスト

Urutoraman za Nekusuto

): Tetsuya Bessho (別所 哲也

Bessho Tetsuya

)
Sara Mizuhara (水原 沙羅

Mizuhara Sara

):

Kyoko Toyama

(遠山 景織子

Tōyama Kyouko

)
Takafumi Udo (有働 貴文

Udō Takafumi

)/Beast the One (ビースト・ザ・ワン

Bīsuto za Wan

):

Kenya Oosumi

(大澄 賢也

Oosumi Kenya

)

Nae Yuuki

(裕木 奈江

Yūki Nae

)

Ryohei Hirota

(広田 亮平

Hirota Ryōhei

)

Toshiya Nagasawa

(永澤 俊矢

Nagasawa Toshiya

)
Daisuke Ryu (隆 大介

Ryū Daisuke

)

Masao Kusakari

(草刈 正雄

Kusakari Masao

)
Music
Opening Theme
Ending Theme
"NEVER GOOD-BYE"

Lyrics:

Jack Blades

Composer:

Matsumoto Takahiro

Arranger: Matsumoto Takahiro & Tokunaga Akihito
Artist:

Tak Matsumoto Group
Original Soundtrack
The original soundtrack was produced by Tak Matsumoto (of B'z), under his Vermillion Records label (which is in turn, a part of the Being Giza group). It was released in Japan on July 20, 2005. The catalogue code for the album is BMCV-8015.
Cancelled Sequel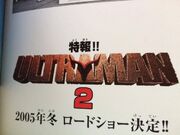 In 2005, Tsuburaya Productions announced that a sequel to this movie, ULTRAMAN 2: requiem would be released in winter. However, due to the failure of the Ultra N Project, the sequel was cancelled. The suits for this unmade sequel were remodeled into Zett and Reibatos.
Gallery