U-Tom (ユートム Yūtomu) were a race of ancient robots that appeared in episode 17 of Ultraseven.
Subtitle: Underground Robot (地底ロボット Chitei Robotto)
History
Ultraseven
The actual history behind the existence of U-Tom is unknown, except that they resided within an underground city. Above the underground city was a mining team who suffers from frequent signs of earthquakes every time during mining operations, followed by a flash of light. One day when Jiro Satsuma (Dan Moroboshi's human template) was trapped in a cave-in to save his mouse, the Ultra Guard were called to save him and brought along the Magmariser drilling tank. While crossing the volcanic cave, they found a metallic wall and Dan bombs it but gets kidnapped by a U-Tom. The team decided to get into the hole and discovered the underground city. Dan managed to escape from his captor before being burned to death by becoming Seven and rescue Jiro. The rest of the team returned to Magmariser as they escaped and their bombs detonated the underground city.
Trivia
Data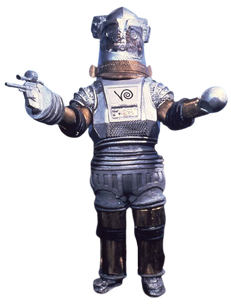 Stats
Height: 2.8 m
Weight: 2 t
Origin: Underground city
Weakness: The U-Tom's vulnerable part is their eyes/visors. By firing upon said location, they would immediately shut down.
Powers and Weapons
Gun: U-Toms have a gun for their right arm that can shoot energy bullets, although these are weak as they are easily reflected off on tougher substances.
Punching Hammer (パンチングハンマー

Panchingu Hanmā

): U-Tom's left hand were durable and can be used in a manner of a hammer.
Merchandise
Gallery