Tyrant (タイラント Tairanto) is a chimera-like Kaiju that debuted in Ultraman Taro, created from the spirits of the Ultra Brother's fallen foes. After fulfilling its vengeance on the previous Ultra Brothers, Tyrant arrived on Earth to fight Taro. Arguably the most popular chimeric monster in the Ultraman Series, numerous incarnations of Tyrant have appeared since the original's debut.
Subtitle: Despot Monster (暴君怪獣 Bōkun Kaijū)
History
Ultraman Taro
Tyrant was created by the combined spirits of several Kaiju that were defeated in the past by the Ultra Brothers. After leaving Neptune and heading towards Earth, Zoffy was the first to attempt to stop Tyrant only to be easily defeated by the chimera Kaiju's combined strength. From then on, Tyrant would face off against the other Ultra Brothers on the other planets that were to come after Neptune - Ultraman on Uranus, Seven on Saturn, Jack on Jupiter, and Ace on Mars, and like Zoffy they were all met by Tyrant's superior strength and were beaten down with ease by the behemoth all while ZAT was tracking the Kaiju's movements from their base.
Luckily, Ace was able to emit an Ultra Sign to warn ZAT and Taro of the coming Kaiju's presence. Finally Tyrant arrived in Japan and carried out its vengeance, wreaking havoc across the city. ZAT was quick to attack but was not enough to match Tyrant's strength. Kotaro turning into Ultraman Taro shortly after and the two fought. Whether it was from exhaustion from fighting the other Brothers, or Taro's natural strength, Tyrant was of little match for the hero and was destroyed after his grappling hook was energized and thrown back at him. Go Beyond the Ultra Brothers!
Trivia
Seagorath, Baraba, and Bemstar were the only components of Tyrant to be mentioned during his debut appearance.
Tyrant is one of a few Kaiju who defeated more than 1 Ultra: 5 in total.
Tyrant has a sadistic personality. When he fought the brothers he appears to "laugh" when the brothers are weakened by his strength. Also, before battling Ultraman, Tyrant shows boredom while waiting for the Ultra to arrive on Uranus.
While Baraba's hook was on his left arm and the mace on the right, these weapons were swapped over in Tyrant's case.
Interestingly, Tyrant died in a similar fashion to one of his components, Baraba, in that he met his end at the hands of his own weapons.
Tyrant's suit appears in Ultraman Leo episode 9 as part of the Monster Corps Show.
The 6 Ultra Brothers vs. The Monster Army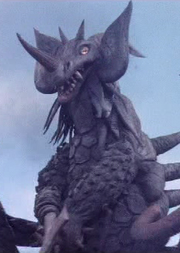 Tyrant reappeared in the movie The 6 Ultra Brothers vs. The Monster Army.
Awoken by a mad scientist's experiments in Thailand, Tyrant (as well as the Kaiju: Astromons, Dorobon, and Dustpan) went on a rampage until they faced Hanuman. Hanuman, having been recently revived following the end of his previous life as a human thanks to the efforts of the Ultra Brothers, was able to hold off Tyrant and his allies until Super Gomora appeared and attacked him as well. Hanuman was overpowered by the five monsters and encased in a crystal sphere by Gomora until the Ultra Brothers arrived to even the odds. Unlike the other Kaiju whom were killed in battle, Tyrant was killed when the scientist's facilities blew up, catching the Kaiju on fire before exploding.
Trivia
The Tyrant suit from Ultraman Taro was reused for its appearance in this film.
Ultra Galaxy Mega Monster Battle: Never Ending Odyssey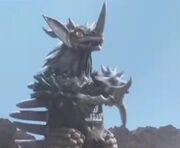 Tyrant reappears in episodes 6 and 7 of the series, Ultra Galaxy Mega Monster Battle: Never Ending Odyssey.
Tyrant was Grande's first Kaiju to appear in the show, and the first he used to challenge Rei. Initially, Gomora and Tyrant were evenly matched, but Tyrant eventually overpowered Gomora with his superior size and strength. Gomora used his Super Oscillatory Wave against the chimera-like Kaiju, but it was absorbed into his chest mouth, leaving Tyrant unharmed. Rei recalled Gomora and summoned another of his Kaiju, Eleking. Even with the assistance of the ZAP SPACY, Eleking was no match for Tyrant. Tyrant eventually cut Eleking's throat with his axe hand, killing him and seriously wounding Rei in the process.
After Rei's recovery, and his Battlenizer had upgraded to the Neo Battlenizer (thanks to the assistance of his sister, Kate). Rei challenged Grande to a rematch with Gomora, and the duel was in Rei's favor. With the additional assistance from Litra slowing Tyrant down with its Fire Attack, Gomora defeated Tyrant by impaling him with his nasal horn and firing his Super Oscillatory Wave into his gorge, killing Grande's Kaiju.
Trivia
Tyrant's color scheme in this series is paler and grey rather than the vibrant colors in his original appearance.
Tyrant's death in Ultra Galaxy Mega Monster Battle Neo was the same as Bemstar's death in the previous series; allowing him to absorb energy and use that moment to strike at his gorge.
Mega Monster Battle: Ultra Galaxy Legends The Movie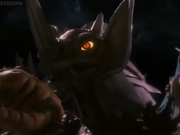 Tyrant reappeared in the film Mega Monster Battle: Ultra Galaxy Legends The Movie as one of Ultraman Belial's 100 Monster Army. He was first seen rising out of the ground along with Hoe, Banpira, Gudon, Eleking, King Guesra, and Red King. He was then seen teaming up with Hoe, Vakishim, Sadola, Alien Reflect, and Galberos to take down Litra. Tyrant was recalled back by Belial along with the surviving monster to watch Reionic Burst Gomora fight the Ultras and was sent back out to fight Ultraman Zero. He was the last monster killed by Zero's Zero Slugger Attack in the final battle behind Alien Valky, Fire Golza, Alien Guts, King Joe Black, and Zetton, as well as the last monster to die in Belial's 100 Monster Army.
Trivia
The Tyrant suit from Ultra Galaxy NEO was reused for Tyrant's appearance in the series.
Ultraman Saga
In Ultraman Saga, Tyrant is seen as one of the many Kaiju revived by Alien Bat via Hyper Zetton to battle against the Ultra Brothers, with Tyrant battling with Ultraman Leo. Tyrant fought with Leo for a short period of time, but was eventually killed by Leo's Leo Kick, blowing Tyrant to pieces.
Trivia
The Tyrant suit from Ultra Galaxy NEO was reused and modified for Tyrant's appearance in the series.
The pre-battle part of the episode described Ultraman Taro fighting Tyrant, but instead Ultraman Leo fought Tyrant. This was done for creative purposes to give Leo more importance as he was the mentor of Ultraman Zero.
Ultra Zero Fight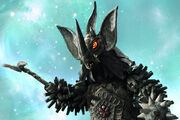 Tyrant reappeared in season 2 of Ultra Zero Fight. Tyrant teams up with Villainous as the Fiendish Tag Team to fight Ultraman Zero. After all of the Ultimate Force Zero's members are killed, Zero Darkness (Ultraman Belial) invites Tyrant and the rest of the Darkness Five to conquer the universe. After Zero used his new Shining form to defeat Belial, Zero used the Shining Star Drive to emit a light too bright for the Darkness Five to handle forcing them all to retreat.
Trivia
The Tyrant suit from Ultra Galaxy NEO was reused for Ultra Zero Fight.
After Jatar died, Tyrant took his place in the Darkness Five.
Tyrant also makes an appearance in the Darkness Five biography special.
Ultraman Ginga Theater Special
"Darklive, Red King! Seagorath! Bemstar! Hanzagiran! King Crab! Baraba! Alien Icarus! Combine, Tyrant!"

―Darklive announcement for the Spark Doll components of Tyrant via the Dark Dummy Spark.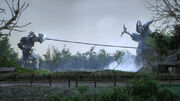 Tyrant was Darklived by Alien Icarus on himself and the other Spark Dolls of the monsters that make up him. Tyrant then fought Ultraman Tiga and eventually Jean-Nine. He ended up in defeat by Ultraman Tiga kicking Tyrant's energized Baraba Whip right at him and Jean-Nine using Jean Stardust on him, blowing him up. All of the Spark Dolls ended up being turned back to their form of state and being recovered by Hikaru Raido. Ultraman Ginga Theater Special
Trivia
Unlike most of the Darklived monsters, Tyrant has a special designation, given as (SDU), standing for Spark Dolls United.
Tyrant was defeated by Ultraman Tiga (aside from Jean-Nine) in a similar way to its first incarnation.
New Ultraman Retsuden
In New Ultraman Retsuden episode 9, his battle against Jean-Bot and Jean-Nine alongside his master Villainous was referenced by Ultraman Zero and Glenfire to demonstrate the Jean Brothers' teamwork. He was also the subject of topic for episodes 12-13 as well as the monsters that make up him. In episode 13, his battle against Ultraman Zero along with Alien Temperor and his battle against the Ultra Brothers including Ultraman Taro was referenced by the same Ultraman that defeated him.
Tyrant was referenced by Exceller to Vorst as the inspiration for Five King after watching Alien Icarus did so to himself.
Ultraman X
A Cyber Card of Tyrant was created by Xio, Cyber Tyrant (サイバータイラント Saibā Tairanto) after his Spark Doll was salvaged by the team.
Ultra Fight Orb
"Amusing... Then! Ujuika Reegamiyo... Toraitan! Now, have a taste of the Giga Battlenizer's power!"

―Reibatos while summoning Tyrant
Tyrant reappeared in this miniseries where he was revived by Reibatos via combining seven monster souls from the Giga Battlenizer to deal with Ultraman Jack and Zoffy, who planned on stopping the chimera monster's new master at the Monster Graveyard. Zoffy and Jack fought against the beast as Reibatos left for a quieter location to revive his monsters.
Jack and Zoffy fought valiantly against Tyrant, but the injuries they had sustained in the fight were starting to bring them down. Ultraseven, Ultraman Zero, and Ultraman Orb, with his newly acquired Emerium Slugger form, arrived to aid their fellow Ultras in the battle, successfully regaining the upper hand. Due to their years of experience and know-how in combat, it didn't take long for Tyrant to be overpowered by the Ultras. After being weakened by Orb's Orb Kick and Zero's Ultra Zero Kick, Tyrant got destroyed once again by a combination of Ultraseven's Wide Shot, Zero's Wide Zero Shot, and Orb's Wide Slugger Shot.
Ultraman Geed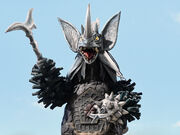 Tyrant reappeared in episode 9 of the series where he attacked the underground base from above ground in search of Mayu's Little Star. He was then met with opposition by Riku Asakura, who transformed into Ultraman Geed to stop him. While Tyrant proved to be a tough opponent, Geed managed to hold his own against him by blocking his attacks, fighting back with own, and deflecting his Energy Ear Needle Darts.
Tyrant then breathed fire at Geed until Ultraman Zero appeared and dispelled the flames. The two Ultras then double-teamed the chimera Kaiju by kicking him simultaneously, dodging his ax swing, then grabbed him and threw him down. Tyrant then took on Zero alone as Geed went to take on Skull Gomora. Zero later transformed into his Beyond form and kicked away the Kaiju's grappling hook with his feet in midair. After dodging and blocking his flames, Zero merged the Quattro Sluggers into his Beyond Twin Edge and used them to slash at Tyrant multiple times and finally finished him off with his Wide Beyond Shot, destroying him as a result.
Trivia
Suit Actor: Yoshiki Kuwahara

The Tyrant suit from Ultra Galaxy NEO was reused for his said appearance.
Data
Other Media
Ultraman Fighting Evolution series
Tyrant appears thoroughly throughout the video games in the Ultraman Fighting Evolution series as a playable character, starting in Ultraman Fighting Evolution 2.
Ultraman Fighting Evolution Rebirth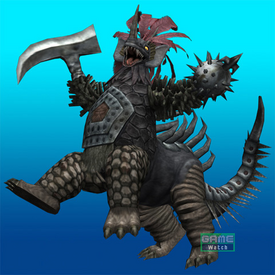 He does however play a much bigger role in the story mode in Ultraman Fighting Evolution Rebirth. The first time he is seen, Tyrant was attacking a city until Ultraman Taro appeared to stop him and eventually Taro manages to defeat Tyrant once again. Later, Alien Mefilas and Alien Baltan are experimenting with several Kaiju on earth, transforming them into "EX Kaiju". Tyrant is one of the Kaiju who was transformed into EX Tyrant (EXタイラント EX Tairanto) and Ultraman Taro returns to face him again, this time on a comet. Ultraman Taro manages to defeat EX Tyrant, but the vengeful spirits that create Tyrant refuse to die so easily and Tyrant transforms into his skeletal form, EX Tyrant (Deathborn) (EXタイラント(デスボーン) EX Tairanto (Desubōn)). However in the end, Taro prevails and EX Tyrant II dies again after being defeated while the sun's rays shone on the comet.
Towards the end of the story mode, Alien Mefilas revives EX Tyrant in his first form to fight against Ultraman Cosmos to test his strength. Ultimately, Cosmos defeats EX Tyrant. 
Kaiju Busters
Tyrant is one of the monsters fought by the player in the Nintendo DS game Kaiju Busters. It is also the default and only monster that can be fought by two players via the game sharing function of one Kaiju Busters cartridge.
Merchandise
General Trivia
Tyrant was originally set to appear in the film, Great Decisive Battle! The Super 8 Ultra Brothers. Along with Vakishim, Twin Tail, Astromons, Mons-Ahgar, Eleking, Red King, and Gomora. They were replaced for unknown reasons.
None of Tyrant's on-screen appearances explain his origin as a Kaiju created from deceased Kaiju.
Tyrant is the only Kaiju who has two separate EX forms.
EX Tyrant II has 4 toes, even though the original Tyrant (and the front half of EX Tyrant) has only 3 toes.
In Ultraman All Star Chronicle, Tyrant possessed his EX Tyrant roars.
References