Two From the Deep Sea (深海の二人 Shinkai no Futari) is the sixth episode of Ultraman Mebius.
Synopsis
The mysterious woman wakens the egg of Twin Tail under the ocean. A mysterious figure in blue, Tsurugi, arrives.
Plot
The ever plotting Bogar (in human disguise) used her energy blasts to heat an egg of a prehistoric monster Twin Tail located on the ocean floor. Taking notice Kazuya Serizawa used his Knight Brace and attacked Bogar but, fled away soon after. GUYS is notified of a strange heat source and goes underwater to investigate. They soon discover the egg which was original thought to be a rock until Bogar used one last blast to hatch Twin Tail. The creature was quick to attack GUYS, noted that he is aquatic creature and could have one against Gudon 34 years ago if thats where they fought. Miari then transformed into Ultraman Mebius, Twin Tail gained the upper hand as he ramened into him multiple times using his body. The team figured out that the two blue "eye balls" near the top were sensory organs and fired at them. Weakened the monster was finished of by the Mebium Shoot, but shortly afterwards Bogar appared in its true form and fought Mebius. Just then the "blue giant" appeared and fought of Bogar until she retreated. The blue giant the went back to the surface in a ball of light.
Cast
Appearances
Ultras
Kaiju
Home Media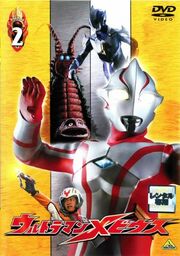 Ultraman Mebius Volume 2 features episodes 5-8.
Community content is available under
CC-BY-SA
unless otherwise noted.