The Train in the Vary Dimension (異次元列車 I jigen Ressha) is a strange vehicle that appeared in the TV series, Ultra Q in its final episode. It originates from another dimension where the lives of its people are pleasant. The train would somehow occasionally pick up people from the Earth's dimension, who where looking to escape their tiresome lives.
History
Ultra Q
The Train of the Vary Dimension would transport passengers to a place know as the "Vary Dimension". A Sci-Fi writer, Kenji Tomono, who managed to go to the Vary Dimension through an elevator, described the Vary Dimension as free from the hardships and hassles of everyday life. When people who find themselves on the train desire to return to their families before they reach the Vary Dimension, the train's conductor will drop them off back onto Earth. Those that would rather return to the Train to travel to the Vary Dimension, will only to be tragically denied.
Trivia
The Train in the Vary Dimension is modeled after an Odakyu 3100 Electric Train.
The interdimensional train concept would be seen in Ultraman 80, with the Alien Bam race abducting passengers to use as slave labor for the construction of Mechagiras.
The concept of a flying train would be reused for the DenLiner in the 2007-2008 Toei tokusatsu series Kamen Rider Den-O.
The Train in the Vary Dimension takes a plot-centric part of the OVA, Ultraman Graffiti, being the kaiju, aliens, and Ultras' transportation to work.
Data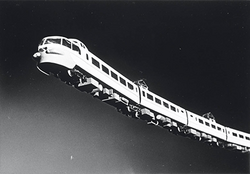 Stats
Length: Unknown
Weight: Unknown
Origin: Vary Dimension
Powers
Anti-Gravity Flight: The Train is capable of flying through mid-air. Its usual mode of transportation.
Merchandise
Gallery
Ultra Q
Miscellaneous
Community content is available under
CC-BY-SA
unless otherwise noted.