The Teacher's Secret  (先生の秘密  Sensei no Himitsu) is the 2nd episode of Ultraman 80.
Synopsis
Tempers flare as UGM scare off cause the monster Gikogilar during an attack. Meanwhile, back at school, a student goes missing with Takeshi investigating.
Plot
The episode starts off with Gikogilar attacking the city then the narrator announces this is the first monster attack in 5 years and also shows what Minus Energy is. Then we see Takeshi grading papers until he gets a call from UGM. Takeshi is then late so Harada scolds him then Ooyama orders the team to attack Gikogilar as we are also given the introduction to UGM and its members, Officer Harada, Taijima, Juno and Captain Ooyama. As they try to take the monster down Ooyama orders Takeshi to shot the monster's back but this results in the monster flying away leaving Takeshi angry. The the next day while Takeshi is giving role call, he notices a student is gone then several students pointed out he was skipping school. So Takeshi Yamato vists the boy's house and talks with his mother.
TBA
Cast
TBA
Appearances
Ultras
Kaiju
Home Media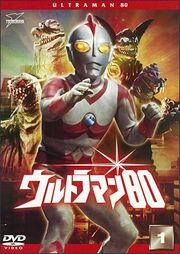 Ultraman 80 Volume 1 Features Episodes 1-4.
The episode was premiered in the United States on TOKU on March 27, 2017
Community content is available under
CC-BY-SA
unless otherwise noted.