The Smile of Destruction: Part 2 (滅びの微笑(後編) Horobi no Bishō (Kōhen)) is the thirty-sixth episode of Ultraman Dyna.
Plot
It was Sphere that sent the terrifying warning to mankind! Sphere turns into monster Geomos and invades Earth, causing Osaka to panic.
Cast
Guest cast
Appearances
Ultras
Kaiju
Home Media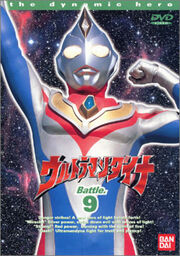 Ultraman Dyna Volume 9 features episodes 33-36.
Trivia
This episode, along with the previous one, was featured in Ultraman Retsuden episode 26 "Osaka Great Decisive Battle! Defeat Neo Geomos!!"