The Smile of Destruction: Part 1 (滅びの微笑(前編) Horobi no Bishō (Zenpen)) is the thirty-fifth episode of Ultraman Dyna.
Plot
Miss Smile is a glacier on Pluto. Images of this glacier are clear with TPC's new technology Cosmonet. A spacecraft is attacked.
Cast
Guest Cast
Appearances
Ultras
Kaiju
Home Media
Ultraman Dyna Volume 9 features episodes 33-36.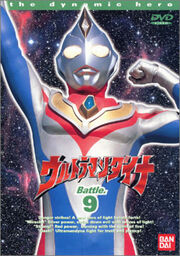 Trivia
This episode, along with the next one, was later featured in Ultraman Retsuden episode 26 "Osaka Great Decisive Battle! Defeat Neo Geomos!!"