The Revenge of the Death God (死神の逆襲 Shinigami no Gyakushū) is the forty-eighth episode of Ultraman Gaia.
Plot
Despite the loss of the Aerial Base, the surviving XIG officers gather what they can and set out to back Gaia in his battle against Zebubu.
Cast
TBA
Appearances
Ultras
Kaiju
Mecha
Home Media
Ultraman Gaia volume 12 features episodes 45-48.
Trivia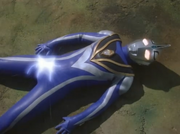 This is the first episode in the series in which an Ultra bleeds, when Agul had his leg cut open by Zebubu.
After the destruction of the Aerial Base, XIG was transferred to Geo Base Japan and used it as their temporary base of operations. The Geo Base remained as their base in the original video Gaia Again as the Aerial Base 2 was still under construction.
Final appearance of Michael Simmons.