The Immortal Grozam (不死身のグローザム Fujimi no Gurōzam) is the forty-sixth episode of Ultraman Mebius. It features Mirai Hibino/Ultraman Mebius teaming-up with Ultraseven with Kohji Moritsugu respiring his role as Ultraseven's human form, Dan Moroboshi since his recent appearance in Ultraman Mebius & the Ultra Brothers.
Plot
The third Heavenly King, Grozam, imprisons Mebius in a crucifix of ice to crush hope and courage, leaving GUYS unable to bypass his regenerative body. Worse, Konomi, Marina, and Misaki are the only ones not in hospital after the Deathrem encounter. But with a little help from Dr. Fujisawa and Ultraseven, the girls might be able to save Mirai and show humanity's strength.
Cast
Guest cast
Appearances
Ultras
Kaiju
Home Media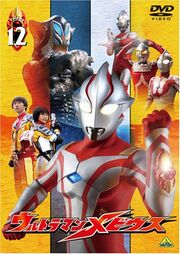 Ultraman Mebius Volume 12 features episodes 45-47.