The Flying Whale (飛ぶクジラ Tobu Kujira) is the sixteenth episode of Ultraman Cosmos.
Plot
Akane is upset when her friend Kōta teases her for wanting to swim with whales. Chaos Header materializes her whale dream into reality as Jirak, the flying whale. When the EYES team come to investigate, Akane merges with the whale to become Chaos Jirak. She fights with Ultraman Cosmos. Kōta shouts an apology, which she rejects. He then promises to leverage his fathers bakery business to pay for a trip to Dominica so she can swim with dolphins. With that, she relents and turns back into a girl.
Cast
Voice Actors
Guest Actors
Akane Tachibana (立花 茜

Tachibana Akane

): Kasumi Takabatake (高畠 華澄

Takabatake Kasumi

)
Kōta Noda (野田 浩太

Noda Kōta

): Motoki Ochiai (落合 扶樹

Ochiai Motoki)​​​

)
Suit Actors
Appearances
Ultras
Kaiju
Home Media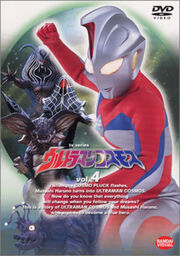 Ultraman Cosmos Volume 4 features episodes 13-16.
Trivia
Keiichi Hasegawa envisions the entire episode's plot as a reference to Yapool from Ultraman Ace, who haunted the human hearts during his active period on Earth.