The Day the Monster Came Out (怪獣が出てきた日 Kaijū ga Detekita Hi) is the 5th episode of Ultraman Tiga.
Plot
Munakata is drinking milk in a bar when a reporter approaches him about GUTS. Then their attention is drawn to the television, and the reporter notices that Munakata has slipped away without him noticing. Reports of a seemingly-dead kaiju washed up on a beach comes into GUTS Base, and the local people are complaining about the smell and the rotting corpse. GUTS is tasked with moving it away from the area, with Rena assigned to carry it via her jet. When Daigo asks her about her experience with using the apparatus, she mentions that she is quite skilled with crane-games. Once above the monster, however, things don't go as planned, as the flesh appears to be so rotten that the crane dosn't get a good grip. When she does manage to get the crane onto the monster, the monster actually roars to life, to everyone's surprise. It struggles with the cables still attached to it, endangering Rena in her jet, so Daigo transforms into Tiga and helps her to release the monster. The fight is about even, but Tiga prevails in the battle.

Cast
Main Cast
Guest Actors
TBA
Suit Actors
Appearances
Ultras
Kaiju
Home Media
Ultraman Tiga Volume 2 Features Episodes 5-8.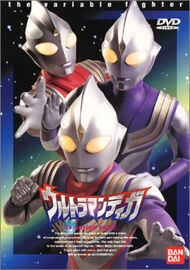 Community content is available under
CC-BY-SA
unless otherwise noted.