The Challenge from the Anti-Space (反宇宙からの挑戦 Han Uchū kara no Chōsen) is the fourteenth episode of Ultraman Gaia.
Plot
A wormhole near Jupiter sends Anti-Matter towards Earth. The potential reaction between it and normal matter could mean total annihilation. The Alchemy Stars work on a way to avoid this threat, but in the end it might take Gamu and Fujimiya overcoming their differences to protect the planet.
Cast
TBA
Appearances
Ultras
Kaiju
Mecha
Home Media
Ultraman Gaia Volume 4 features episodes 13-16.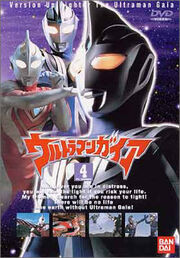 Trivia
Antimatter 's appearance is based on the kaiju Pestar.
This episode was later featured in Ultraman Retsuden episode 45, "Challenge from Anti-Space! Gaia vs. Agul!?."